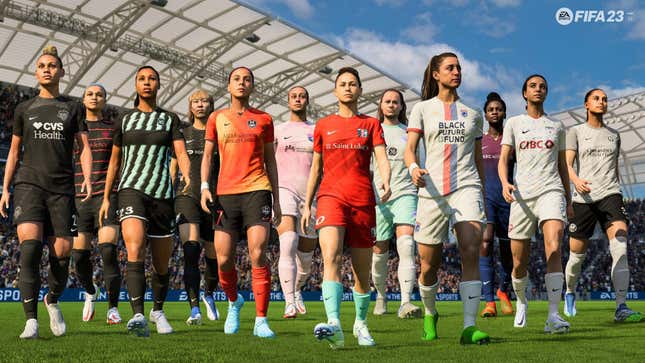 Tuck your napkins into your collars and pick up your knives and forks, because women's soccer fans and FIFA 23 players are finally eating. Six months after its launch, FIFA 23 has finally added more women's leagues to the game, giving us more ladies to play as aside from each country's respective national squads.
These Great Fortnite Creative Maps Show Us What's Possible
The U.S.-based National Women's Soccer League (NWSL) and the European UEFA Women's Championship League (UWCL) just got added to the game after a slight delay. Those leagues were meant to join the sprawling men's league offerings on March 15, but the day before the official EA Sports FIFA account tweeted "due to an issue encountered during testing of our latest Title Update, we can confirm that the NWSL and UWCL will not be available in FIFA 23 by March 23."
Many expected that to mean March 23 exactly, so you can imagine the surprise when the leagues popped up in-game today, March 22. The official NWSL Twitter account was especially excited, tweeting out an announcement in all-caps before offering FIFA 23 codes to its followers.
Prior to these additions, you could only play in two officially licensed women's leagues (England's Barclays Women's Super League and France's Division 1 Arkema), though it's worth noting that FIFA 23 is the first time any women's club team was available in a FIFA title. Prior to that, it was just national teams. We've come a long way since the first addition of women's squads in FIFA 16.
With the latest update, FIFA 23 has added four NWSL-specific stadiums and a full Tournament Mode for the league along with all 12 NWSL squads and their players. More players means a more adequate and realistic FIFA 23 women's ranking list as well, and you'll be surprised to see how few American women are in this top 10 considering how often we win World Cup tourneys.
Here are the top 10 FIFA 23 women's players based on agility, crossing, stamina, and other metrics:
Sam Kerr (Australia, Chelsea)
Alex Morgan (U.S., San Diego Wave)
Wendie Renard (France, Lyon)
Ada Hegerberg (Norway, Lyon)
Lucy Bronze (England)
Beth Mead (England, Arsenal)
Marie Katoto (France, Paris St. Germain)
Debinha (Brazil, Kansas City Current)
Kadidiatou Diani (France, Paris St. Germain)
Viviane Miedema (Netherlands, Arsenal)
Now, thanks to this update, I can really bask in my feelings of inadequacy as I watch Portland Thorns F.C. player Crystal Dunn run circles around everyone else, and remember that I once had to mark her in high school footy and failed miserably.