Women remain a minority in the esports industry, but they have always been a presence in competitive gaming scenes. Compete's video team interviewed four female esports experts about their successes, their struggles, and their different takes on competitive gaming's gender disparity.
Sherry "Sherryjenix" Nhan, a pro Street Fighter player, got her start in an all-female fighting game tournament. In her words, she "got destroyed" in that first competition, but it got her hooked. She became determined to keep practicing and grow her skills.
As Nhan's experience shows, women-only tournaments can provide opportunities to showcase female players and inspire other women to join in. However, separating female players from their male peers implies that women wouldn't ever be able to keep up. Christina Alejandre, the VP of Esports for Turner Sports and the GM of Eleague, voiced her hesitation about gender separation in tournaments and emphasized that she sees video games as "an even playing field." Eleague's most recent televised tournament, a Street Fighter V invitational, featured both male and female competitors facing off.
Although the playing field for competitive games is equal in theory, women competitors are not treated the same as their male counterparts. T.L. Taylor, a professor of Comparative Media Studies at MIT, described these discrepancies to Compete: "What we hear from women is that when they go online and are not hiding their gender, they often face consistent pushback."
Women who work in other areas of the esports industry can also be underestimated by their male peers. "Sometimes it is a struggle," Turner Sports' Christina Alejandre said. "Sometimes, you're the only female sitting in a meeting room and people assume that you're there to get coffee or take notes."
G/O Media may get a commission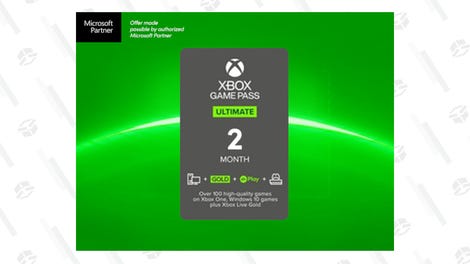 70% Off
Xbox Game Pass Ultimate Two-Month Subscription
Pro gamer Sherry Nhan also described the persistent harassment she has received online, such as gendered insults and disparaging comments about her looks. However, Nhan says that the fighting game community has always been welcoming to her when it comes to in-person interactions. Rachel "Seltzer" Quirico, a former pro gamer and current esports host, echoed that sentiment: "Whether you're a sister or a brother in this scene, it's very much a family feel for me."

This is the final installment in Compete's new season of competitive gaming videos. Other videos in this series have covered retired Halo pros describing a decade of changes in esports, the University of Utah's first-of-its-kind varsity esports program, the Southern California fighting game scene, and the medical experts who keep esports pros healthy.
VIDEO CREDITS:

Executive Producer
Japhet Weeks
Brooke Minters
Senior Producer
Anastasia Weeks
Producer
Zoe Stahl
Associate Producer
John Dargan
Shooter
Jorge Corona
Editor
Anders Kapur
Graphics
Devin Clark
Writers
Maddy Myers
Eric Van Allen
Additional Consultation from Editor-In-Chiefs
Stephen Totilo
Tim Marchman
Photo Courtesy of
Turner Sports

Footage from
Madison Square Garden
Turner Sports
RedBull Video
Blizzard Entertainment
PGLWednesday Night Fights
Yahoo Esports
The ESL Gaming Network
Esports World Convention
EVO Championship Series