Social networking/online game, Fashion Fantasy Game, surveyed over 2,500 teen girls to see what they want for Christmas this year. The answer? Cash. I guess they've finally grown out of that I-want-a-pony phase.
Fashion Fantasy found that after the 65% that wanted cold, hard cash for Christmas, a whopping 59% wanted a laptop. Coming in at third fourth and fifth place were cell phones, shoes and MP3 players. Only 8% would even consider a VIP membership to FashionFantasyGame.com as a gift worth having.
So what does this say about teen girls today? Are they all tacky shopaholics who would debase themselves with requests for cash this holiday season to feed their addiction? Or is the younger generation simply becoming more practical in these trying economic times?
Here's what the press release answered:
"For young women, even holiday gifting is about style and empowerment," said Nancy Ganz, founder and CEO of Fashion Fantasy Game. "Giving money as a gift provides young women with the resources to express themselves and to learn budgeting skills. These are two core components of Fashion Fantasy Game, where girls can create their own virtual fashions which are then bought and sold in virtual boutiques operated by other players."
G/O Media may get a commission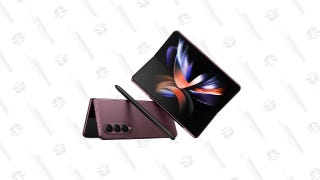 Save Up to $300
Galaxy Z Fold4
Yes, I'm sure that's what they'll spend their money on if they get it for Christmas: virtual fashion. Not real fashion.
Hm... I wonder if any of them would spend their money on a Nintendo DS and a copy of Style Savvy. But then we'd be getting into the question of "Are all style games created equal?" as opposed to the question of what teenage girls want for Christmas.