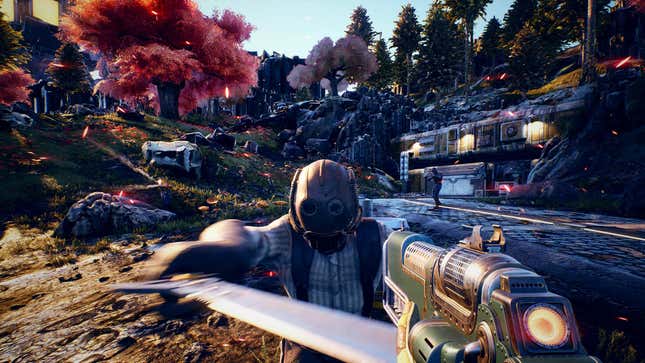 If you haven't been tuning into Fallout creator Tim Cain's YouTube channel, you are sorely missing out on some fun gaming trivia and insights. Whether it's the gritty details of how RPG gameplay gets fleshed out or Cain's own personal experience as a gay dev, the former Obsidian creative is never short of an intriguing story. And in a recent video on worldbuilding, Cain reveals that the "elevator pitch" for 2019's spacefaring RPG The Outer Worlds referenced a certain ill-fated but much-loved 2000's era sci-fi show.
This New Fantasy Beat 'Em Up Is Like Dragon's Crown With Druids
After the success of Fallout: New Vegas in 2010, fans of Obsidian Entertainment's games have wanted either a sequel or another first-person RPG experience of similar style. New Vegas saw Obsidian take control of Bethesda's approach to open-world games and, if you ask its devotees, make it better. Then in 2018 Obsidian announced its own science-fiction RPG, The Outer Worlds, which promised to feature the same first-person perspective and sense of humor that New Vegas was known for. According to director Tim Cain, the goal of the project was to be more inviting, appealing to casual players with a sense of "Fallout meets Firefly," a reference to Joss Whedon's short-lived 2002 sci-fi western TV show about a band of misfit rebels and outlaws who are never shy to crack a joke or two.
If you've played The Outer Worlds, which also has its share of humor and interesting characters, you know that pitch actually harmonizes quite well with the final product.
Read More: Fallout Creator's Coming Out Story Hits Harder This Pride Month
Check out Cain's video, in which he talks about various aspects of worldbuilding:
While describing The Outer Worlds as having been designed with casual players in mind, Cain's quick to point out that this didn't just mean the game would be a dumbed-down experience.
"You can have things that are complex," Cain said, but when you "lower the slope," you allow more people to see exciting things. "The view from a mountaintop" Cain continues, "is just as gorgeous whether you climbed up that mountain, or drove up in a car."
Cain adds that an easier learning curve also doesn't negate complexity down the road. "You can start introducing much more complex stuff," he said, "but it kind of means you front load things that are more mainstream."