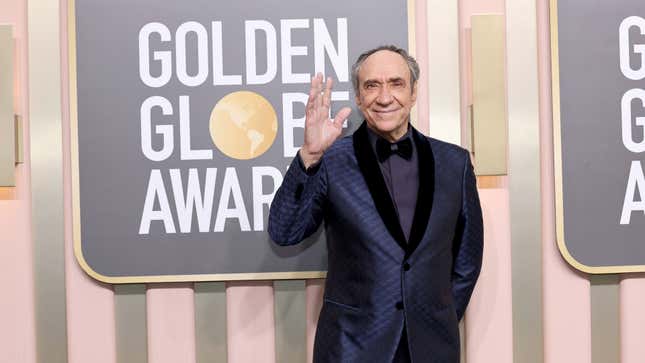 When Mythic Quest, the Apple TV+ series about a fictional video game company, announced star F. Murray Abraham was leaving the show back in April 2022, the details were scant. A spokesperson for producer Lionsgate simply said: "F. Murray Abraham will not be returning to season three of Mythic Quest. Beyond that, we do not comment on matters concerning personnel." Now, Rolling Stone reports that Abraham left the show while embroiled in sexual misconduct complaints. That he then went on to play a creepy dude on the latest season of HBO's White Lotus makes this all the more troubling (and exhausting).
Mythic Quest's Charlotte Nicdao On How Gaming Is Like Acting
According to Rolling Stone, "at least two concerns were raised" in regards to the 83-year-old actor's behavior on set. "The first incident resulted in Abraham being given a warning and told to keep away from some of the show's actresses," a production source told RS. Then "a second incident was brought to creator and star Rob McElhenny's attention." After this, "Rolling Stone understands that Abraham was let go from the show."

Producer Lionsgate gave a statement to Rolling Stone in response to these reports, saying "We take allegations of misconduct seriously and investigate them thoroughly. As a matter of corporate policy, we do not discuss our personnel actions." Kotaku reached out to the agency in charge of Mythic Quest press, but did not receive a response in time for publication.

Abraham is a veteran actor of stage and screen who won the Academy Award for Best Actor in 1985 for his performance as Salieri in Milos Forman's film Amadeus. On Mythic Quest, he played C.W. Longbottom, a fantasy author turned game writer turned drunk who at times struggled to adapt to the younger, millennial workplace. His departure was given the special treatment by showrunners, with the season three premiere episode "Across the Universe" focusing almost entirely on his character's legacy.
Creator and star Rob McElhenney told Variety at the time: "It's a bummer to not have Murray in this season. But we recognize that C.W. is a beloved character and obviously a huge part of the show. So, we made sure that we have a really fitting tribute to him. We definitely address it in a big way."

If McElhenney indeed knew the reason why Abraham was exiting the show, it makes his statement and the episode itself incredibly disturbing. After all, Abraham's career clearly did not suffer from allegations of sexual misconduct—in fact, you can argue that it thrived, as he went from starring in a decent Apple TV+ series to a hit, award-winning HBO show. A tale as old as time.

Update 4/21/2023 9:22 a.m. ET: Abraham acknowledged the reported incidents in a statement and apologized to his former cast members.
"This is a sincere and deeply felt apology," he wrote. "Though never my intention to offend anyone, I told jokes, nothing more, that upset some of my colleagues and as a result lost a great job with wonderful people. I have grown in my understanding from this experience, and I hope they will forgive me."