This is Smap. Sorry, SMAP. Last night, the pop stars appeared on television to apologize, garnering massive television ratings, and resulting in a comment from the Prime Minister of Japan. This is a very big deal.
How big of a deal? As you can see, the live apology broadcast does seem to have caused Twitter to go offline in Japan. Keep in mind that Twitter uses Japan as a testing ground to ensure it can handle massive amounts of simultaneous tweets.
G/O Media may get a commission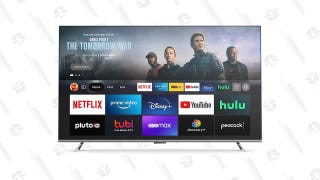 Save 46%
Fire TV 55" Omni Series 4K UHD Smart TV
And today, during a budget meeting, a opposing politician asked Prime Minister Shinzo Abe about the incident, and according to AP, "Similar to the world of politics, there must be many challenges for one group to last so long. It is good that they will stay together, as it meets the wishes of their fans."
Not sure what is going on? Here's an explainer to bring you up to speed.
What is SMAP?
Standing for Sports Music Assemble People, the group debuted in 1988 and has gone on to sell over 35 million records. The members are now in their late 30s and early 40s, and the group is the brainchild of the talent agency Johnny & Associates. The members are Masahiro Nakai, Tsuyoshi Kusanagi, Goro Inagaki, Takuya Kimura, and Shingo Katori. They appear in television shows, feature films, seemingly endless ads, and host radio programs, among many other activities.

If you've lived in Japan, you came across SMAP, perhaps even on a daily basis in one form or another. While they might be old for a boy band, they're an institution that's ingrained into the country's popular culture. Not bad for a group without an official YouTube channel or social networking accounts.
What is Johnny & Associates?
This is one of Japan's biggest talent agencies. The 84-year-old Johnny Kitagawa, who was born in the U.S., founded the agency in 1962 and has gone on to become one of the wealthiest men in Japan and one of the most powerful people in Japanese show business. The story goes that while Kitagawa was working at the U.S. Embassy in Tokyo during the 1950s, according to Newsweek, Kitagawa took the kids he had befriended to see West Side Story, and, inspired, decided he wanted to turn them into a musical act. The result was a group called "The Johnnies," Japan's first boy band.
Johnny & Associates first hit it big in the late 60s with the boy band called The Four Leaves. Since then, the company has produced a string of popular groups, such as KinKi Kids, Tokio, Arashi, KAT-TUN, and SMAP. Besides releasing music, all the groups appear on variety and comedy shows and in numerous commercials. Some even appear as commenters or hosts on morning talk shows and news programs.
Why did SMAP apologize?
Last week, a news story appeared claiming that four members of the group—Masahiro Nakai, Tsuyoshi Kusanagi, Goro Inagaki, and Shingo Katori—were in talks to leave Johnny & Associates. The fifth member, Takuya Kimura, was not part of these talks, apparently, and was to stay at Johnny & Associates. Their departure would probably have caused SMAP to effectively disband, because the SMAP name is owned by Johnny's.
"There have been some news reports that members of SMAP are considering flying solo. . . . Debate and negotiation are indeed underway over the matter," a lawyer representing Johnny & Associates told The Japan Times. (Full disclosure: I am a columnist at The Japan Times.)
The gist of their somewhat vague apology was that they were sorry for causing concern and wanted to continue forward, but they weren't really clear what that meant, though.
In short, four grown men in their late 30s and early 40s seemed to apologize for wanting to leave their talent agency.
[Image: 2ch via Michaelsan]
What caused them to want to leave?
There are numerous theories about this and lots of scuttlebutt. The clearest and easiest to understand is that there is apparently internal politics at Johnny & Associates. Four SMAP members planned to leave with the manager who had been overseeing their career at Johnny & Associates. According to Sports Nippon (via Japan Today), the 58-year-old who has managed SMAP since its debut resigned from the Johnny's affliate company J-Dream, which handles SMAP.
Sports Nippon (via Japan Today) added that there is speculation that there was a power struggle because the 49 year-old daughter of Johnny & Associates' 89 year-old vice president Mary Kitagawa, Johnny Kitagawa's sister, and SMAP's manager over who would run the company. Mary Kitagawa apparently refuted this speculation early last year and supposedly confirmed her daughter as the next president of Johnny & Associates. Nikkei reports that in an article from that time, Mary Kitagawa called SMAP's manager and, in front of the journalist, allegedly said that if she were to challenge her daughter to become the next president, she would be fired.
This could be why, as Nikkei theorizes, the departing members, under the guidance of their long-time manager, might have wanted to set up their own agency or join a rival one.
I don't understand, can't they just leave?
If it were that easy, the assumption is naturally that the four who wanted out, would have left. There are a variety of factors at play, but the biggest is how powerful Johnny & Associates is.
As entertainment journalist Yuji Watanabe explained in The Japan Times, the four members that quit Johnny & Associates would have a hard time surviving in the Japan entertainment world on their own after leaving and probably upsetting the massively powerful organization. To maintain relationships with the other popular boy bands, advertising and TV networks could be reluctant to work with the four former members.
Unlike other pop groups, especially female pop groups, Johnny & Associates acts do not "graduate." This is why you have men in their late 30s and early 40s continuing on in boy bands. Conversely, AKB48, Japan's biggest girl group, holds graduation ceremonies, giving members a little more freedom to move on, while in the past, pop stars that belonged to Hello Project, which manages Morning Musume, have left the agency and went on to continue their careers. With Johnny's, it seems different.
That might not be the only reason. In an article published by Cyzo Magazine (via The Japan Times) from a few years back, in which former Johnny & Associates boy band members talked about how hard it was to find work on their own, one said, "When you are in Johnny's, you don't realize how poor your skills are."
One member of SMAP, which used to have six members, did leave the group in 1996. Katsuyuki Mori debuted with the group in 1988, but decided to leave to pursue motorbike racing. As News Livedoor (via JE Fandom) points out, he's had a successful racing career.
Is this the first time Johnny & Associates have been at the center of controversy?
No. According to The Japan Times:
In 1999, weekly magazine Shukan Bunshun ran a series of articles on Kitagawa's supposed sexual exploitation of the boys in the agency. They also wrote that some underage members were allegedly forced to drink and smoke. The agency filed a damages lawsuit against the publisher.

In 2002, the Tokyo District Court ordered the publisher to pay ¥8.8 million in damages to the agency. However, the Tokyo High Court in 2003 reduced the amount of compensation to ¥1.2 million, ruling that the article on sexual harassment was based on fact, while other parts, including the drinking and smoking, were defamatory, according to news reports.
You can read more about these allegations in this New York Times article titled "In Japan, Tarnishing a Star Maker."
What about SMAP? Have they been involved in any controversies of their own?
Yes. Takuya Kimura, one of SMAP's most popular members and one of Japan's biggest celebrities, suddenly announced in November 2000 that he was marrying pop star and actress Shizuka Kudo. They had a daughter the following May. Boy band members are typically discouraged from having relationships, let alone having children and getting married. In the world of idols, this was a scandal. In the world of regular people, this is real life.
Other incidents include SMAP member Tsuyoshi Kusanagi getting picked up by the cops after he was found drunk and naked in a Tokyo park. Another member, Goro Inagaki, got in trouble with the law after injuring (read: hitting) a police officer with his car after trying to flee. Goro was illegally parked, and thankfully, the officer sustained only minor injuries.
How did people react in Japan to last night's apology?
If you go by what people are saying online (here, for example), many people feel bad for these four members—that, namely, they seem trapped and unhappy. Here are four grown men apologizing because they supposedly wanted to leave their talent agency. Many felt uncomfortable watching the apologies and slightly miffed that what they said didn't really clear anything up.
The way that the apology went down has also been dissected, with people noticing that the four who planned to leave were wearing black ties, while Kimura, who had planned to stay, was not.
Also, Kimura stood in the middle, while the group's leader, Nakai, was standing off to the side, seeming to pinch his hand.
But, they apologized yesterday. Everything must be okay, no?
Well, no. The public apology, which basically was the members saying they were sorry they caused concern and said they were going to "move forward no matter what happens," did garner big television ratings. But their apologies were vague and the live broadcast did feel awkward and even unsettling. This was a side of SMAP fans had never seen and a side they probably did not want to see.
There where those who felt the whole thing was humiliating. Some in the Japanese press compared the public apology to a public execution.
For the time being, it does look like the group has avoided a split, but questions still remain, especially what caused those four members to want to leave. The SMAP members' contracts reportedly end this September, so there could be more drama in late summer and early fall as the members decide whether or not to resign with Johnny & Associates.
If they do, the group could make it through this rough patch and come back bigger than ever. Or this could be an opening for another Johnny's group to ascend to the top of the Japanese entertainment world. That is, at their own peril.
Top image: 2ch via Michaelsan
To contact the author of this post, write to bashcraftATkotaku.com or find him on Twitter@Brian_Ashcraft.

---
Kotaku East is your slice of Asian internet culture, bringing you the latest talking points from Japan, Korea, China and beyond. Tune in every morning from 4am to 8am.