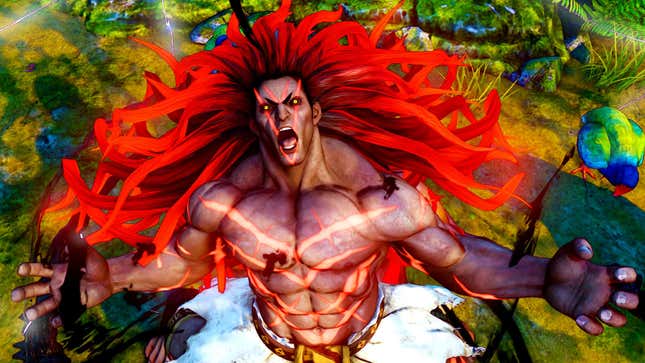 The Evolution Championship Series, typically referred to as just EVO, wrapped up its Japanese circuit this weekend. There was a lot to get hyped for during the tournament, including the epic Guilty Gear Strive sets and the nail-biting Tekken 7 matches. However, one thing that most competitors weren't stoked about was the laggy setup, which the event's organizers have admitted on Twitter "produced a flawed competitor experience throughout the tournament."
The Week In Games: System Shock, Street Fighter 6, And More
A spin-off of the main tournament that first kicked off in January 2018, EVO Japan is a multi-day event centered around the fighting game community. A plethora of popular and recently dropped brawlers are playable there, from The King of Fighters XV to Melty Blood: Type Lumina to Street Fighter V. Alongside these games are an assortment of their best competitors, including top Guilty Gear Strive player Gobou, Tekken 7 pros Arslan Ash and Rangchu, and goated Virtua Fighter 5 player Tonchan. Folks were ready for three days of throwing digital hands, and as a viewer, I can tell you it was exciting to watch all the wild combo strings and even wilder redemption arcs, like pro Tekken 7 player Meo-IL clawing his way from the losers bracket to the grand finals. But as things moved fast, the setup couldn't keep up and monitors seemingly lagged behind in displaying the gameplay—a particularly serious problem in a genre where virtual life-or-death reactions and vital inputs are the stuff of milliseconds.
Fed up, Punk calls out 'shitty' tournament setup
The setup issues appeared to be widespread. Both Tekken players Arslan Ash and Rangchu noted the laggy issues with the monitors, while Guilty Gear Strive pro Jonathan Tene mentioned that the venue had "only one setup" per pool. Other attendees, from Guilty Gear player Romolla to Tekken pro Knee, complained about EVO Japan's setup as well. But the issues were most pronounced during an important Street Fighter V match between Momochi and Punk, which was stalled for almost an hour as Punk had a display replaced because of the latency problems between the monitor and the PlayStation 4.
Punk, who is a prolific fighting game player, was making his way through the Top 8 losers bracket. After battling almost 400 other competitors in Street Fighter V: Championship Edition, Punk could see the first-place trophy and roughly $7,600 in front of him. He just had to put Momochi, a two-time EVO champion, in the dirt first. Things were pretty evenly matched between the two, even though Punk's Vega lost the first match against Momochi's Cody. It was at this point that Punk called over an event staffer to chat about the latency issues. After testing out some buttons, the staffer concluded that a new monitor was in order. Nearly 40 minutes and a new display later, Punk ended up losing to Momochi, who played as Karin for the second match. Punk was clearly unhappy and,, as seen in this fan recording, stormed off the stage. The winner of Street Fighter V's EVO Japan competition was Oil King.
On Twitter, Punk popped off on EVO Japan, calling the monitor issues "fucking annoying" and the tournament itself "shitty." He later explained that he'd spent "over $2000" only to be met with what he felt was an unacceptable tournament setup in which the match's result was not in his control. He finished off by apologizing to "all Japanese fans" for not playing his best, something he promised just before beginning his match against Momochi.
EVO says the issue was the stage and stream, not the monitors
In the wake of competitors like Punk discoursing over monitors on Twitter,, the official EVO account acknowledged that the event suffered from "a flawed competitor experience" that resulted in an imbalance it promised would "never happen again." The tournament's general manager, Richard Thiher, quote-tweeted EVO, saying that the stage setup "negatively impacted players" across games. However, in that admission, Thiher wanted to make one thing clear: it wasn't the monitors.
"It is important to confirm that Punk and others were right, the Evo Japan 2023 stage setup negatively impacted players," Thiher tweeted on April 2. "It is also necessary to confirm it was the stage and stream design itself, not the INZONE monitors. We will prove that to you at other events this year."
Kotaku reached out to EVO and Punk for comment.
Despite the technical issues and drama, EVO Japan was still a blast this year. There's nothing like watching talented, professional players do incredibly unimaginable things in games, let alone during the stress of a tournament. However, fighting games being what they are, it's essential that competitors be able to play in an environment where the hardware, displays, and everything else are up to the task, as anything less will inevitably hamper play. With EVO returning in August at Las Vegas' Mandalay Bay, there's still a few months to fix things up and prove that, as Thiher said, the problem wasn't with the monitors.