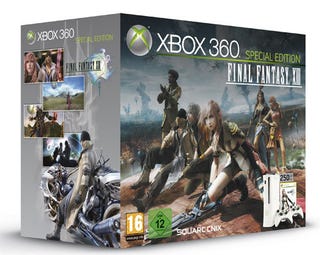 While North American Final Fantasy XIII fans ponder forking out $400 for a special Xbox 360 bundle, European fans are getting two different models to choose from - the Special Edition and the Elite Bundle. What's the difference?
Europe's Special Edition Final Fantasy XIII Xbox 360 bundle is very much like the one we are getting in North America, with a 250GB Xbox 360, two wireless controllers, the game, and downloadable avatar wear (now identified as a Rosch Outfit, a Nabaat Outfit, and a Chocobo pet.)
The Elite Bundle, on the other hand, is packed with only the game, one controller, and a 120GB black 360 Elite console, with no visible Final Fantasy XIII markings. Not quite as fancy, the Elite Bundle should prove attractive to those looking into picking up the console just to play the latest Final Fantasy game's three Xbox 360 discs.
Square Enix Ltd. vice president of PAL region brands, Larry Sparks, is pleased.
"FINAL FANTASY XIII is one of the most anticipated entertainment releases of all time and we're pleased to be working with Microsoft to offer gamers across PAL territories the chance to pre-order and buy one of these special Bundles and own a piece of gaming history."