If you play video games, you've got Tim Sweeney—co-founder of Epic Games—to thank for everything from the Unreal Engine to Gears of War. If you live in North Carolina, though, you can thank him for something a bit more substantive.

These Great Fortnite Creative Maps Show Us What's Possible
See, in addition to his work in video games, Sweeney is also one of the largest private landowners in the state, as this WNC magazine profile explains (emphasis mine):
At just 43, Tim Sweeney is one of the largest private landowners in the state of North Carolina, with a portfolio that includes 36,650 acres, most of it in the mountains. After the economic crash of 2008, land prices dropped as developers went bankrupt. Sweeney instituted a "conservation land grab," buying foreclosed and undervalued wilderness and putting conservation practices like fire restoration and invasive plant eradication into place.

Sweeney's land protection efforts are strategic and targeted, with a focus on creating biological corridors and well-managed nature preserves. He owns land from Roan Mountain to Raleigh, but the feather in his cap is Box Creek Wilderness, a 5,185-acre tract in Rutherford and McDowell counties. Box Creek is an ecological anomaly in the foothills, packed with rare and imperiled plant species, and is the state's largest private Registered Natural Heritage Area.

"It's like the Bermuda Triangle for geology and rare plants," Sweeney says, adding that the rock and soil conditions have created an unusual open-forest canopy where succulent, desert-style plants thrive. "It reminds me of hiking through the dryer parts of the Cascade Mountain Range out West."
For the past few years, the future of Box Creek has been up in the air, as a utility company sought to have the land—which Sweeney paid $15 million for—carved up to run a power line through.
Those plans are now toast, however, as Sweeney has donated a conservation easement for Box Creek to the United States Fish and WildlifeService (USFWS), which basically means that while it remains his private property, it is now a designated conservation area and can't ever be developed.
G/O Media may get a commission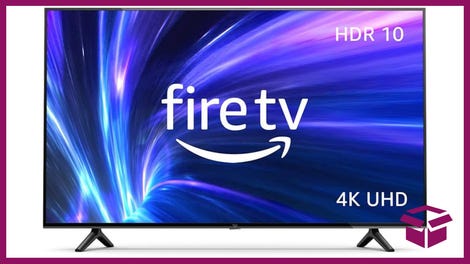 42% Off
Amazon Fire TV 50" 4K Smart TV
"It's not open to anyone in the public at any time", Sweeney told the Citizen Times, "but people can email and get a permission card and go and enjoy it."
The total size of the area donated adds up to around 7000 acres, and is situated "in the foothills of the Blue Ridge Mountains south of Marion and Morganton, north of Rutherfordton, and west of South Mountains State Park."