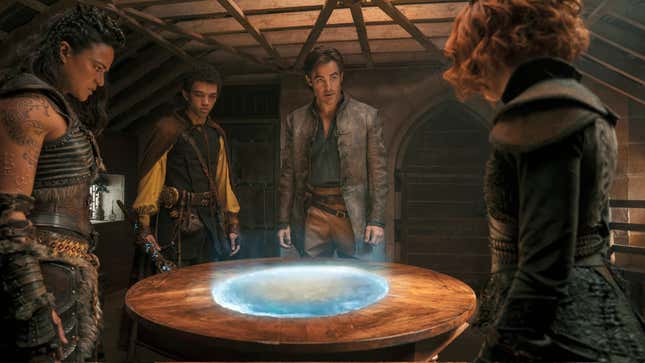 Dungeons & Dragons: Honor Among Thieves opened in theaters on March 31 and it spent the weekend dominating the box office, besting John Wick 4 and Scream VI. The film, an adaptation of the tabletop RPG starring Chris Pine, Michelle Rodriguez, Justice Smith, Regé-Jean Page, Hugh Grant, and Sophia Lillis, is enjoying almost universal critical and box office acclaim, uniting fans of the RPG and newcomers with its surprisingly spirited take on D&D.

Honor Among Thieves is better than it has any right being, considering it's essentially a transparent Hollywood cash grab that spent years stuck in a battle for distribution rights centered around an IP currently going through a very interesting licensing controversy. Any blockbuster film coming down the pike should take note, because this is how you do it.

A brief Dungeons & Dragons review
I, admittedly, know very little about the world upon which the film is based, but that's not a barrier to entry in this franchise. After all, every Dungeons & Dragons game is wildly different from the last, with the world, races, classes, and the all-knowing 20-sided die (or D20) acting as the unifying threads. (Um, actually, Alyssa, there are many worlds in which D&D games can take place. The film happens to use the very popular Forgotten Realms campaign setting. -Ed.)

So, you don't need to know much about D&D to follow along with Honor Among Thieves, which lays its cards out swiftly and effectively: A former bard-turned-thief named Edgin (Pine), and his ragtag band of thieves (Rodriguez as a barbarian named Holga; Smith as Simon, an insecure half-elf sorceror; and Grant as a shifty, chatty rogue named Forge Fitzwilliam), help the wrong person steal the wrong thing, and two of them get thrown in jail for it. After serving their sentences, Edgin and Holga head off on a journey to right their wrongs, discovering there's something much more sinister going on and they're right at the center of it.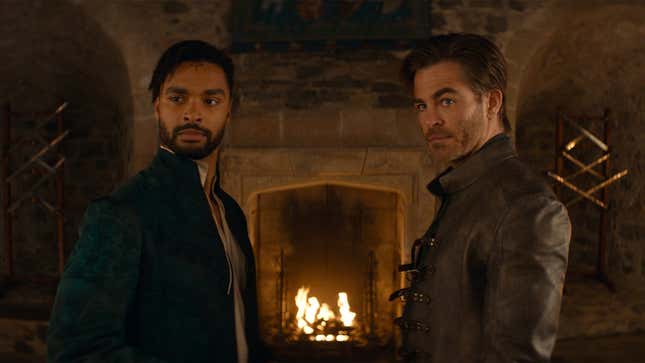 It's a simple enough plot, and the variety of worlds and races Honor Among Thieves weaves together is still somehow easy to follow without having any prior knowledge of it. And everyone is doing the absolute most in their roles, which is the real secret to selling a bold, brash blockbuster. A focus on great characters we can easily and swiftly grow fond of can carry even the most milquetoast of adaptations over the finish line, and this cast is doing some heavy lifting. Pine delights as a know-it-all bard, Smith is adorably unsure of himself, Rodriguez is giving her most himbo-y performance yet, and Grant is just playing Grant but in the D&D universe.
When Regé-Jean Page appears midway through as an impossibly talented heroic archetype whom everyone but Pine unabashedly adores, the banter that ensues with Page's humorously humorless paladin repeatedly got genuine laughs from the audience at my viewing. When they all band together to fight a dragon who has gotten a little chubby since he was last spotted, even the CGI muckfest that teeters towards Marvel-esque levels of illegibility is enjoyable, because the cast is selling it.


The Dungeons & Dragons movie's surprise cameo 
When it's revealed that the ex-husband of tough-as-nails barbarian Holga is still clearly pining over is a halfling with an affinity for big-ass women played by Bradley Cooper of all people, the entire audience squealed in delight. And even Cooper is working hard to sell his character, rather than just showing up to flatly read some lines and collect his check. There are genuine laughs to be had throughout the entire movie, some impressive practical effects (I love a good puppet), some CGI that impresses, some that does not, and a solid batch of performances from the entire cast.

I sat down to watch Dungeons & Dragons: Honor Among Thieves expecting to have to neck my pint of lager within the first ten minutes in order to enjoy it. Instead, I was surprised to find a film of emotional highs, moving lows, endearing characters, and solid performances that successfully takes a rather complicated IP and translates it into a thoroughly enjoyable popcorn flick. While we don't know if Honor Among Thieves' success will spawn a sequel, I can say with certainty that any other attempts to adapt popular IP should look to this film for inspo.