He says he's not Dumbledore, but he obviously is, and he's here to usher in Lego Dimensions' seventh wave. It kicks off on November 18 with the Fantastic Beasts and Where To Find Them story pack and Sonic the Hedgehog's Lego debut.
In the latest "Meet the heroes" short for Lego Dimensions, Dumbledore the Grey introduces us to Newt Scarmander, who'll be starring in next week's Fantastic Beasts story pack.
The story pack, the second introduced to Lego Dimensions after October's new Ghostbusters pack, is essentially the Fantastic Beasts film in Lego form. It comes with Newt, that mole thing, and a new base to build for the Lego Dimensions' portal.
Next week also brings Sonic the Hedgehog to Lego Dimensions with a full playable level based on the Sega mascot's greatest hits.
G/O Media may get a commission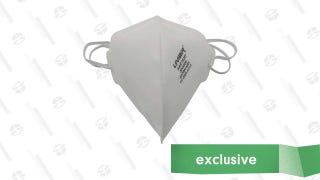 NIOSH CDC-Certified N95 Masks (10-Pack)
Other new additions next week include a team pack of Gizmo and Stripe from Gremlins, Marceline from Adventure Time, E.T. and Tina Goldstein from Fantastic Beasts.
The November 18 release is technically the first half of wave seven, with the second coming in February with bunches of Batman and Knight Rider.