Doom 4 was a no-show at this year's QuakeCon, and id Software CEO Todd Hollenshead told me he'll take the arrows for raising expectations it would be there. He also share with me a sliver of details about the game.
Doom 4 is well into development at id. Hollenshead said "a team and a half" are working on the game. That compares to a single team working on id's next big game, Rage, which will be released in 13 months, and two smaller teams working on mobile projects (including the upcoming Rage iPhone games) and QuakeLive. Hollenshead said id intends to eventually have a third full-size team running to work on a third big game.
Hollenshead may have told the QuakeCon 2009 audience that Doom 4 would be shown at QuakeCon 2010, but he told Kotaku at the 2010 event that we shouldn't see this as a sign of trouble for the game.
G/O Media may get a commission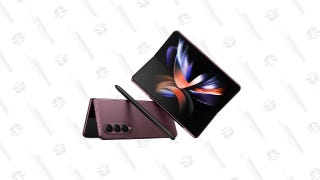 Save Up to $300
Galaxy Z Fold4
"First of all," he said, "it really is true that we want to make sure that when we show something it is really impressive and is at the level of blow people away." As an example of "impressive" he referred to the unprecedented three-screen, three-platform simultaneous live gameplay stage demo of Rage from earlier during QuakeCon 2010. Plus, he said, id wanted to focus on Rage, the next big game and not tease too far into the future.
The Rage demo to which Hollenshead referred was a powerful demonstration of an id game running the company's id Tech 5 game engine impressively on PC, PS3 and Xbox 360. The game looked great on all three. Such a tech demonstration is relevant for id, because the formerly PC-centric studio is now developing a game such as Rage for simultaneous release on PC and high-definition consoles.
Doom 4, according to Hollenshead, will also be targeted for simultaneous release on PC, PS3 and Xbox 360. "That's absolutely what we're thinking," he said. "That would certainly be the hope."
The previous Doom, which was released on PC in 2004, was offered on the original Xbox in 2005.
With Doom far into development, id's support for its other franchises continues. Hollenshead said that the free-to-play (or subscription-based, depending on preference) QuakeLive will continue to be supported by the company.
And for Wolfenstein, the id series that last saw a Raven-developed game in the summer of 2009? "It would be sad if there's not another Wolfenstein game because I'm a personal fan of the franchise" Hollenshead said. "Wolfenstein 3D is the game that got me started in PC gaming. So personally I have a lot of emotional and sentimental attachment to that game. Even before I was working at id I was playing Wolf 3D, but we're still in the 'thinking about it" phase at this point."
The next big thing from id, though is Rage. That comes in September of 2011, possibly a month after the next QuakeCon, a QuakeCon that certainly seems primed to have a Doom 4 appearance — though no promises were made this time.