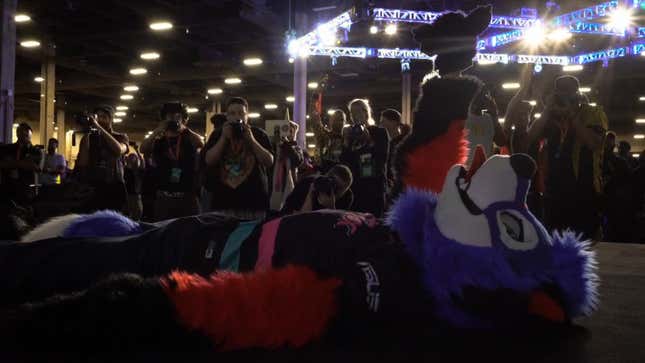 Evo 2019's Mortal Kombat 11 tournament ended with Dominique "SonicFox" McLean lying on stage, his weekend of competition finally over. He was once again the king of Mortal Kombat.
This Arcade-y Basketball Game Brings The NBA Jam Vibes
Although SonicFox has competed in multiple games over his career, NetherRealm Studios franchises have always felt like his home. He first made his mark on Evo history by winning Injustice: Gods Among Us in 2014 before earning back-to-back Mortal Kombat X championships in 2015 and 2016. SonicFox's focus strayed a bit with the release of Dragon Ball FighterZ, which he won at Evo 2018, but he can never be counted out when it comes to the games where he first found huge success.
Heading into Evo 2019, SonicFox had two apparent goals ahead of him: defending his Dragon Ball FighterZ championship and winning the event's very first Mortal Kombat 11 tournament. He barely missed out on the former, losing a close grand finals match to Japanese rival Goichi "GO1" Kishida on Saturday afternoon, but followed that up shortly afterwards by qualifying for the Mortal Kombat 11 finals. SonicFox would have one more shot at Evo gold before the weekend was over.
To say SonicFox made the most of this opportunity would be an understatement. He tore through the bracket, sending up-and-comer Julien "Deoxys" Gorena to losers and fending off a brief challenge from Evo 2017 Injustice 2 champion Ryan "Dragon" Walker in winners finals. When it came time for their rematch in grand finals, SonicFox pulled off an incredible 3-0 sweep, collapsing on the stage behind them afterwards. His day of competition had started at 10 am, and now, over 12 hours later, he had an Evo trophy to show for it.

Mortal Kombat 11 is still relatively young, and there's no telling whether SonicFox will be able to maintain the stranglehold he currently has on the playing field. Several players have proven they have the potential to rise up and knock him off his throne, so it should be exciting to see how competition in Mortal Kombat 11 develops after this first Evo appearance.