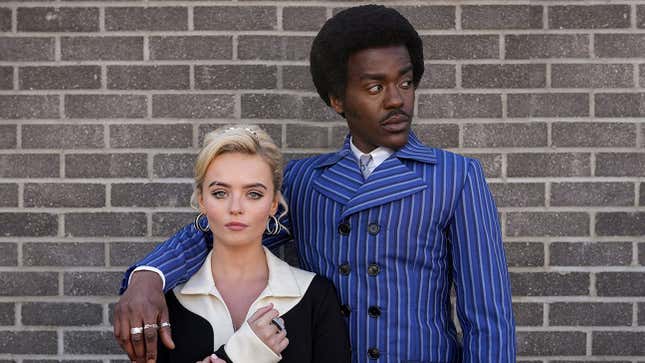 Doctor Who won't kick off its newest episodes with its newest star (Sex Education's Ncuti Gatwa) until November of this year, but it looks like the long-running British sci-fi series is finally getting the proper reboot it deserves. Considering the show's importance in British pop culture and beyond, a strong season is exactly what it needs—because the last few have been, uh, rough.

11 Minutes Of Cozy Railway Planning In Station To Station
And if the recently circulating set photos are any indication, it could be the most stylish and, dare I say, sexiest season yet.
Doctor Who follows a time-and-space-traveling alien known as The Doctor (and their human companions) on wild, wacky trips through the universe. It first aired on the BBC way back in 1963, but a few years after the series debut, then-lead William Hartnell grew ill. In an attempt to keep the series going, showrunners figured out the most essential piece of The Doctor's lore: The Doctor can't die, but regenerates into a different person. Hartnell was replaced by Patrick Troughton, and the rest is history.
Since then, there have been 14 different Doctors at the helm, from Good Omens' David Tennant to Game of Thrones spin-off House of the Dragon's Matt Smith, and even a single woman thrown into the mix (Broadchurch's Jodie Whittaker). Barbie's Ncuti Gatwa will be the 15th Doctor, and the first-ever man of color to take on the role (he is Rwandan-Scottish). Black actor Jo Martin was revealed to be a different version of the Doctor during Whittaker's tenure.

I've been a fan since the series rebooted in 2005 after a 16-year absence (aside from a TV movie in 1996), though I fell off hard during the tenure of Peter Capaldi (The Suicide Squad). Even Whittaker as the first and only woman Doctor couldn't pull me back in. But Gatwa's season looks like it's going to be a good one—and it's not just because beloved former showrunner Russell T. Davies is back. It's because Doctor Who is bringing sexy back.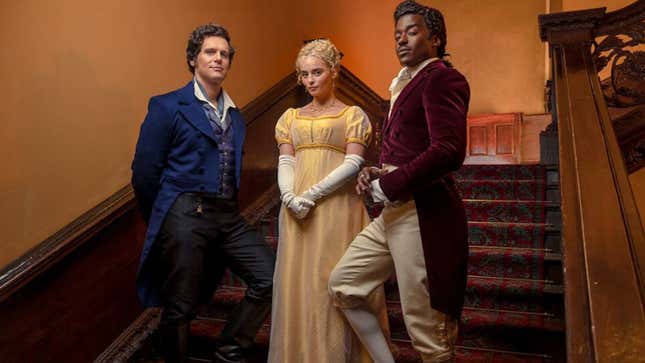 New Doctor Who, new look
Unofficial and official set photos of the upcoming Doctor Who series 14 show off an impressive wardrobe the likes of which we've never seen in the franchise. In pictures, Gatwa and his companions (Coronation Street's Millie Gibson and The Matrix Resurrections' Jonathan Groff) don slick '60s-era fits and Regency-style gowns and suits. And someone at the BBC upped the wig budget, as Gatwa has an amazing afro in one look and long sideburns in another.
Outside of period-specific attire, Gatwa's Doctor seems to have a rather extensive collection of looks, from a gorgeous camel-colored leather trench to a black biker jacket. Traditionally, every Doctor gets their own uniform—an outfit that he or she wears in almost every episode with very little deviation. David Tennant had a brown pin-striped suit and Converse All-Stars, Christopher Eccleston wore all black and and a leather jacket, Jodie Whittaker had royal blue cropped suspenders and a t-shirt. Even when traveling through time, the Doctors have stuck to their uniforms, so it's great to see the 15th Doctor changing it up.

It always bothered me that the Doctor hasn't made more use of the canonically extensive wardrobe on the TARDIS (their signature police-box shaped, time-traveling spaceship) during their travels. Why wouldn't you don some petticoats in the 18th century, or a pair of denim flares at Woodstock? And why, if you have such a big closet, wouldn't you change your outfit every day?

Historically, the Doctor's looks are goofy or camp or stuffily British, but they are not sexy (Eccleston's leather jacket is the closest we got—Matt Smith wears a fez for fuck's sake). Whittaker's Doctor dressed like a kid who picked out their own clothes, likely an attempt to prevent traditional (read: older) Doctor Who fans from endlessly complaining about her gender. But there's a fresh, youthful style and sexiness to Gatwa's looks that I've never seen before in Doctor Who, and it's a welcome addition.

One paparazzi photo of Gatwa on-set in the leather trench shows him wearing a collared zip-up shirt underneath it, with the zipper daringly unzipped to bare a nice portion of his chest. Another one has him on the back of a scooter in a leather jacket, white tee, and blue jeans. This Doctor is hot, and not in the funny, rubbery British way that made me have an irrational crush on David Tennant, but in a properly sexy manner.

Gatwa's Doctor looks set to be a breath of fresh air for a series that struggles to avoid staleness. I can't wait to get back into Doctor Who. The 60th anniversary special featuring David Tennant reprising his role airs this November, and Gatwa's season starts in 2024.
Update 06/27/2023 at 2:10 p.m. ET: Updated the title of The Suicide Squad and clarified the start of Doctor Who series 14.

Update 06/27/2023 at 4:10 p.m. ET: Updated to include Jo Martin's stint as the Doctor.