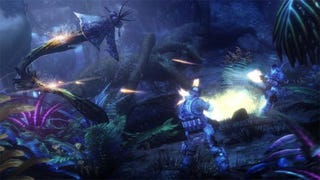 PC gamers eager to get their hands on a little bit of James Cameron's next big blue thing can now do so, with a PC demo for Avatar.
1.5 GB worth of Ubisoft-developed James Cameron goodness is now available for your download and play at several fine PC demo downloading establishments, including FileFront and WorthPlaying. I'm still downloading the file myself, so I couldn't begin to tell you what the demo entails, but it's a pretty safe bet there will be giant blue people and a fantastical alien world. Just a hunch.
Download it and give it a try for yourself, while I savor the irony of the location I discovered the demo links at.
Avatar Gets a PC Demo [Evil Avatar]