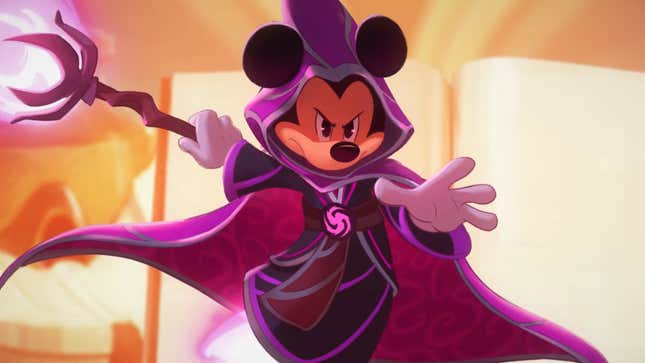 The release of Lorcana, Disney's upcoming collectible card game, is now in jeopardy because The Upper Deck Company has issued a class action lawsuit against Lorcana publisher Ravensburger accusing one of the game's designers of intellectual property theft.
Read more: Disney now has its own card game to compete with Magic and Pokémon

First announced in 2022, Disney Lorcana is a new competitive card game where, not unlike they do with the mythic characters and beasts of Magic: The Gathering, players can battle with each other using cards of iconic characters from Disney movies like Frozen and Aladdin. Disney Lorcana is slated to release to local game stores on August 18.

However, Upper Deck is asking a California Superior Court judge to prevent the release of Disney Lorcana. The complainant alleges that Lorcana co-designer Ryan Miller, who previously worked on an as-of-yet unreleased game for Upper Deck called Rush of Ikorr, lifted core aspects of that game's design and concepts to make Disney Lorcana.

"Rather than allow Miller to honor the Agreements and their terms, Upper Deck is informed and believes that Ravensburger induced and intended for Miller to breach his obligations so that it could capitalize on Miller's knowledge of the elements of the Rush of Ikorr game so he could make a near-identical game for it," the complaint reads. "This allowed Ravensburger to gain a competitive advantage, an accelerated launch, and bring a nearly identical TCG to market under a different brand."

In the lawsuit, Upper Deck is demanding punitive damages, "injunctive relief, disgorgement of revenue and income earned by Ravensburger based on such wrongful acts as ill-gotten gains, and restitution of sums paid to Miller." In a press release, Upper Deck President Jason Masherah stressed the "importance" of the lawsuit, saying it protects the "intellectual property of both Upper Deck and its licensors."

"We want gamers and fans to continue enjoying and having access to unique, innovative and immersive trading card games," Masherah said. "We encourage competition in the industry, but also strongly believe in playing by the rules to ensure the gaming community benefits from the different creative choices by each manufacturer."
Update 06/9/2023 11:10 a.m. ET: Ravensburger senior communications director Lisa Krueger emailed a follow-up statement regarding the lawsuit by Upper Deck to Kotaku, saying "We at Ravensburger stand behind the integrity of our team and the originality of our products. The baseless claims filed this week are entirely without merit, and we look forward to proving this in due time. In the meantime, our focus continues to be on developing and launching a fantastic game in August."