The second generation of Digital Storm's super-slim Bolt system has a clear advantage in the gaming PC's leisurely march towards the living room: tiny little feet.
I didn't realize how important tiny little feet were to a slim gaming PC until I met the Bolt II. Honestly I didn't immediately recognize the bits of black metal and rubber screwed to the side of this system's gorgeous copper chassis as feet. As I withdrew the Bolt II from its padded cardboard container, I may have — may have — mistaken them for some sort of elaborate cable management solution. Considering my idea of cable management involves adding unnecessary cables to the tangled pile for no discernable reason, it was an understandable mistake.
But not, these lovely little black bits were the pieces included to transform this:
G/O Media may get a commission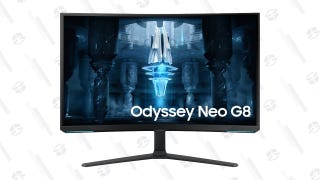 Samsung 32" Odyssey Neo G8 Curved Gaming Monitor
into this:
The last PC I personally owned is a case capable of going horizontal was a 386 I'd put together out of spare parts and spray-painted fire engine red.
That's not to say there haven't been countless horizontal cases over the past several decades. It just means that I've mainly been a tower man. The computer's place is next to the monitor on my desk, possibly with a speaker separating the two. It's my go-to arrangement.
It's an arrangement that doesn't work in my living room, however, because of my penchant of purchasing television sets that are exactly the same size as the stand I'm putting them on. There is no off to the left or right for a tower — even one that's only 4.4 inches wide. No, I need a PC that can fit on my hefty component shelf.
Note that this is a stock picture, and not a picture of my living room. I have two three-year-olds, and my living room looks like a war zone.
There are smaller and skinnier gaming PCs. Hell, the original Bolt was only 3.6 inches wide. The problem with going much smaller than the new Bolt's custom-engineered 14.1" x 4.4" x 16.4" is compromise. You're going to either compromise power, opting for smaller laptop-level hardware, or compromise convenience, packing everything so tight inside the chassis that it requires an engineering degree to upgrade.
Inside the Bolt II, everything is readily accessible. Drive bays are removable. The 240mm cooling system is removable. Swapping out the graphics card is just a removable bracket away. I had to change the graphics card in the first model Bolt and nearly had a heart attack.
Speaking of inside the Bolt II, here's what's inside the model of the Bolt II I tested.
Specifications:
Exterior Finish: Copperhead
Processor: Intel Core i7 4790K (Codename Devil's Canyon)
Graphics Card: NVIDIA GeForce GTX 780 Ti 3GB
System Memory: 16GB Corsair Vengeance Pro DDR3 1866MHz
SSD: 500GB Solid State (By: Samsung) (Model: 840 EVO Series)
Storage: 2TB Western Digital Black Edition (7200 RPM)
Motherboard: ASUS Z97I‐PLUS (Intel Z97 Chipset) (Mini‐ITX)
Power Supply: 500W Digital Storm Bolt II Edition (Gold Plus Rated)
Card Reader: Internal Digital Media Card Reader
Optical Drive: Blu‐Ray Player/DVD Writer (Play Blu‐Ray and Burn DVDs)
Network Access: High Speed Network & Wireless
Extreme Cooling: Digital Storm 240mm Radiator Liquid CPU Cooler
Windows OS: Microsoft Windows 8.1 (64‐Bit Edition)
Warranty: Life‐time Expert Customer Care with 3 Year Limited Warranty
Price as configured: $3,489
The Bolt II starts at $1,725, and for that you get quite a capable little machine. The $3,489 configuration I tested, packed with all of the best things, is ridiculously capable. As per usual, a savvy PC builder could gather most of the components and put them together for less, but they'd miss out on the custom-engineered chassis, one of the secrets to the system's relatively-quiet and cool performance during the heaviest workloads. Well, that and the custom-built control software.
All of that power and engineering equal a slender copper box capable of great and wonderful things. Crysis 3 running on very high settings at 1080p? 65 frames per second. BioShock Infinite with everything maxed out at 1080p? 118 frames per second. Metro: Last Light similarly maxed out? 52 frames per second, because Metro: Last Light is a dick.
Ah, but isn't the system hooked up to an ultra wide AOC monitor? Why yes it is, but just for pictures. It spent most of its time here hooked up to my 1080p television in the living room. Besides, I can't find my damn DisplayPort cable. Life is pretty hard.
While not engaged in gaming, the Bolt II is handy for all sorts of non-gaming applications. Streaming video, listening to music on old versions of WinAmp, reading Kotaku from the couch. My unit came with a Blu-ray player installed, because some people still use those, especially in the living room. It's even got a set of card slots mounted on the side, which seems silly but makes me so happy. I have so many memory cards that need reading.
If I could change one thing about the system, it would be its wireless network card. It's pretty useless. I am sitting in front of the Bolt II. My wireless router is six feet away from me. The Bolt II is having trouble seeing it. This is why we can't have nice wire-free living rooms.
I've seen plenty of reviews of the Bolt II from other outlets over the past couple of months. They praise the system's power, shuffle about over the price, post some impressive graphs and crown it one of the kings of the small form factor PC people. I'm willing to do all of that too. Well, except for the graphs. I've retired from graphs.
Not many of them mention my favorite feature of the system. No one talks about the tiny feet. That's the problem with tiny feet these days.
Digital Storm shipped this review unit wrapped in a foam cage inside of a cardboard box. Inside that box were a power cable and a wireless Xbox 360 controller for the PC. No keyboard, no mouse. The consumer unit comes with more, of course — this was Digital Storm sending a message. This is a machine that's strong enough for the computer room but made for the living room.
The Digital Storm Bolt II, perched on its tiny little legs, makes for an excellent living room companion. Resting on its side within an entertainment center much shoddier than the one in the picture above, its signature 'S' logo looking more like an unfinished "W", the Bolt II has been the focus of family entertainment of all shapes and sizes in the Fahey household for weeks, rising to the occasion no matter what we threw at it.
Again, two three-year-olds. When I say "threw at it", I'm not being completely figurative. Good luck cleaning the system upon its return, Digital Storm.