Say what you want about Kickstarter, but the crowdfunding site has done wonders for many a niche PC gaming sub-genre that needed reviving. That, or specific talent. Like Sheldon Pacotti, the man who wrote the first two Deus Ex games and recently launched a campaign to make a new espionage-themed thriller called Sienna Storm.
These Great Fortnite Creative Maps Show Us What's Possible
This is a Kickstarter project, so there are a lot of unknowns. In an email to Kotaku, Pacotti described Sienna Storm as "a comic-style action-adventure game." So...sort of like Telltale's Walking Dead games, in that it's open-ended, story-driven, and has a strong picturesque graphic novel-like quality to it. He also emphasized that all of the lush hand-drawn artwork shown in the Kickstarter materials is representative of what the final game will look like when you're playing it.
Ok, Sienna Storm, you have my attention:
G/O Media may get a commission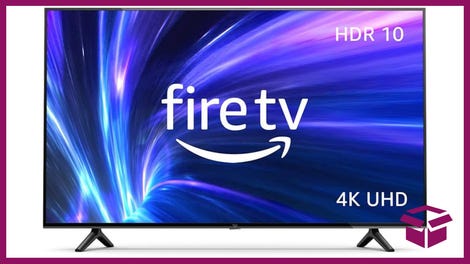 42% Off
Amazon Fire TV 50" 4K Smart TV
As for the gameplay, Sienna Storm's Kickstarter page said that alongside the open-ended dialogue and player-guided narrative, combat will come in the form of a Magic: The Gathering-style card game.
"At the start of each card match, you can modify your deck to best suit the situation, even adding in new cards you've earned over the course of the game," the Kickstarter page read. "This allows you to pick a strategy – trickery, gadgetry, or straight-up violence – that works best for the mission and your personal play style." I like the idea of combining a card game with a rich single-player story, though I also know that the smallest details about pace and balance can make or break gameplay like this.
The game sounds intriguing, in other words, even if it's also a little vague. But the real reason I'm intrigued is because of the talent behind it. Pacotti is working with Tony Evans, a designer who worked on classic RPGs like Star Wars: Knights of the Old Republic 2 and Neverwinter Nights 2, and Darrell Hardy, who worked on one of the early video game versions of Magic: The Gathering. As with some other similar PC gaming revival-type projects (see: Torment: Tides of Numenera), legendary RPG designer Chris Avellone is listed as his very own stretch goal. What a tease!
Learn more about Sienna Storm on its Kickstarter page.
To contact the author of this post, write to yannick.lejacq@kotaku.com or find him on Twitter at @YannickLeJacq.