When a game is as pretty as Destiny can be, it deserves more than some Mega Bloks sets. McFarlane Toys sets things right this fall with a trio of Guardians, a fur-lined questgiver, a sporty ride and a $150 replica of a highly sought-after weapon.
Announced last week, the official images do not do McFarlane's Destiny line justice. To get the full effect you really need to get up in there. The Hunter, Warlock and Titan figures look nice enough from afar.
But you need to get up close to see the fine details like fading paint, cloth patterns and weapon details. Maybe right-click and open the image in another tab.
G/O Media may get a commission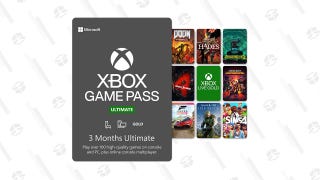 Save 11%
Xbox Game Pass Ultimate: 3-Month Membership
Along with the trio of $19.99 player character figures due out this fall, we've lso got the massive fur-bedecked Lord Saladin.
It's the wolf head paint deco on the chest that gets me. Lord Saladin comes with an unmasked head as well, because he's the 10-inch, due out this fall man.
Since we'll obviously be doing Rise of Iron quests with these figures, we're going to need a Rise of Iron ride. How about a $34.99 Gjallarwing? Or were you looking for something a bit more Gjallar-y?
Well this is about as Gjallar-y as it gets. The life-size replica Gjallarhorn will set you back $150, but it looks gorgeous and it could have been worse. At the McFarlane booth I was asked for suggestions on the new line, and I told them the Gjallarhorn should be sold in a giant purple polyhedral package, and that only one in twenty of those packages actually contains the gun. They're probably considering it.
It's an outstanding line for an eventually outstanding game. And for those of you hopping into the comments to remind me of 3A's Destiny figures, note I said "the toys it deserves."