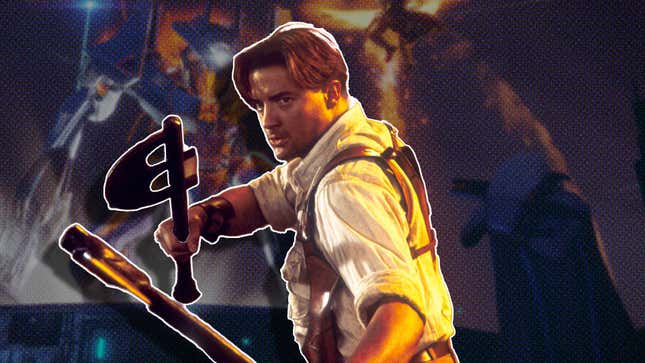 PSA for my fellow Destiny players and Brendan Fraser appreciators: A fellow comrade in arms has gifted us with a Destiny 2 transmog kit that recreates Fraser's iconic, dare I say heartstopping fit from The Mummy. Warning: I'm gonna unabashedly gush about Brendan Fraser.
The Top 10 Most-Played Games On Steam Deck: May 2023 Edition
Destiny players aren't strangers to being kitted out in the freshest drip, and neither is Twitch streamer and YouTuber Spidercides when it comes to assembling some quality pop-culture-inspired fits in Destiny 2. Yesterday, Spidercides tweeted his latest creation: a Destiny 2 fit that's damn-near identical to Fraser's Rick O'Connell attire from the famously fun '99 popcorn flick.
Speaking with Kotaku, Spidercides said he was inspired to create Rick O'Connell in Destiny 2 after having watched Fraser's "triumphant return to cinema" and seeing how "genuine of a person he is."

"I was watching his interviews this past month and I thought to myself 'Could I pull off his character from The Mummy in-game?'" Spidercides told Kotaku. "I loved these movies and hoped the Destiny community would enjoy seeing this inspiration."

Spidercides didn't stop at simply sharing his duplicate Mummy-inspired fit for Destiny players' viewing pleasure. In a reply to his original post, Spidercides uploaded a screenshot detailing the specific items players will need for their guardians to cosplay as The Daddy himself in Bungie's popular first-person shooter.

Read More: Remember, the Brendan Fraser Renaissance Began With Doom Patrol

It would be an understatement to say Fraser's resurgence in Hollywood has been inspiring to watch over the past couple of years. In a 2018 interview with GQ, Fraser said his absence from the silver screen came after he was sexually assaulted by the former Hollywood Foreign Press Association president, Phillip Berkin, in 2003. He started taking more roles since then, and fans of the '90s movie star have dubbed his resurgence—appearing in shows like DC's Doom Patrol and winning the Critics' Choice Movie Award for Best Actor in Aronofsky's The Whale—as The Brenaissance. 

This Brenaissance shows no signs of slowing because Fraser is absolutely down to suit back up as O'Connell should Universal Pictures desire to give The Mummy franchise another go after that forgettable Tom Cruise reboot. In the meantime, you and your Destiny Guardian can shootbang to your heart's content, preferably not on the wrong side of the space river, with whatever new update Bungie's rolled out.