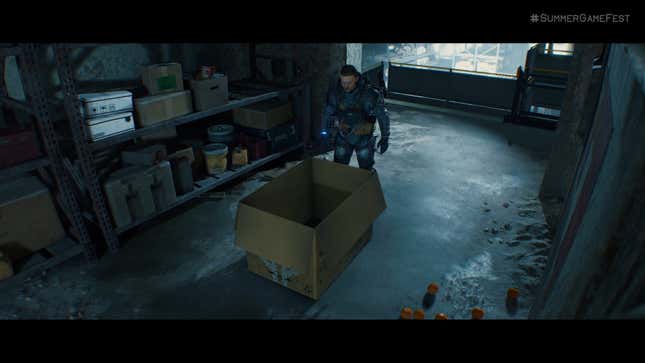 Revealed today during the Summer Game Fest Kickoff Live! event, a director's cut of Hideo Kojima's Death Stranding is coming with additional playable content. While a full reveal of the updated version is weeks away, we at least got a cute little trailer featuring Monster Energy chugger Norman Reedus.

Street Fighter 6's Modern Controls Are Great For The Game
Game maker and Geoff Keighley's good friend Hideo Kojima appeared in a prerecorded segment during the show to introduce a clip of the upcoming director's cut with a clip starring Death Stranding protagonist Sam Porter Bridges pulling a Solid Snake with a box of oranges.
Though not clear from the initial trailer, it seems likely the Death Stranding: Director's Cut release will be a version of the game that's optimized for the PlayStation 5. That would mean enhanced graphic and lighting effects, support for faster frame rates at higher resolutions, and perhaps even some innovative use of the newer console's DualSense controller.
Read More: Death Stranding: The Kotaku Review
Death Stranding was originally released for the PlayStation 4 on November 8, 2019, to generally favorable reviews, though some criticized the game's slow pace and its ridiculous tie-in with Monster brand energy drinks. The PC version of Death Stranding followed in July of last year, an excellent port that maintains a "Very Positive" rating average on Steam. If the Death Stranding: Director's Cut is a dedicated PlayStation 5 version of the game, hopefully PS4 and PC players will have some means of acquiring whatever additional content comes packaged with it.
Read More: DLSS On 240p Video Games Is Some Witchcraft
That's all the information we get for now. Just the trailer and some vague comments from Hideo Kojima about whatever high-concept video game he's got coming up next. Look for a full reveal of Death Stranding: Director's Cut in the coming weeks.