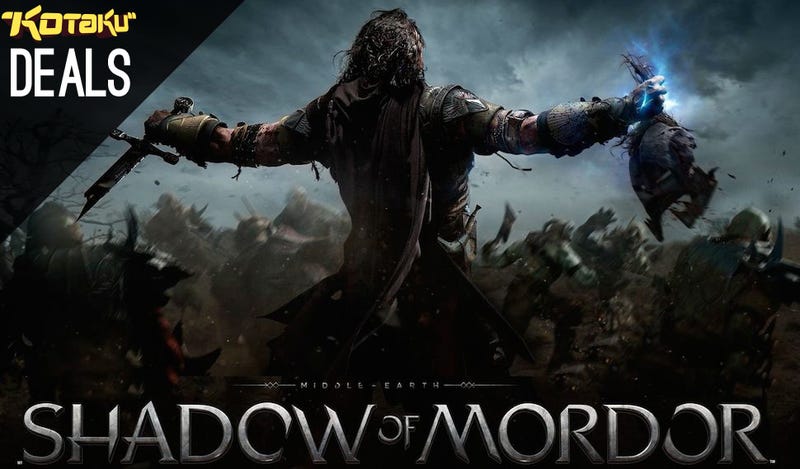 Unexpectedly, pre-orders of Middle Earth: Shadow of Mordor on the PS3 and 360 are $10 off on Amazon today. We're not complaining. [Shadow of Mordor]
Want to see all our deals, and in one place? Check out Kinja Deals .
---
Speaking of pre-orders, get $10 in Best Buy rewards for pre-ordering Halo 5 today. [Halo 5]
---
pre-order Sunset Overdrive from Microsoft to grab a $10 Xbox credit. [Sunset Overdrive]
---
Pre-order Lara Croft and the Temple of Osiris to get $2 off and a $5 Amazon credit. Lara Croft and the Guardian of Light was one of the better co-op games of the last generation, and the new game bumps the player count from two to four, which hopefully means more complex puzzles, rather than an increased focus on action. [Temple of Osiris]
---
The 2DS is a very low barrier to entry to the great library of 3DS games. Today the barrier is even lower at just $100. [2DS]
---
Grab a 240GB Kingston HyperX SSD for $135 and get Watch Dogs free.
---
Buy one "Inside HBO's Game of Thrones: The Collector's Edition" book and get one free. Use code GAMEBOGO. Add both to cart. [Inside Game of Thrones]
---
Own the ridiculously good Attack on Titan, Part 1 on blu-ray for $25 today, its lowest price so far. [Attack on Titan]
---
Akira is one of the most important anime films ever made and one of the most popular blu-rays we've ever listed. Get the 25th Anniversary Edition today for $15. [Akira]
---
Quentin Tarantino's excellent Django Unchained Django Unchained is just $10 today, and for the steelbook version no less. [Django Unchained]
---
Grab the complete set of Avatar: The Last Airbender for cheap today. If you've dismissed the show for any number of reasons, don't, it's great.
---
Remember the one where He-Man rubs his hands over sand so fast it turns to glass, and then he uses the glass to create a cage, or what about the time he spun the sword around fast enough to create a tornado and then threw the tornado at someone? Get the 30th Anniversary Limited Edition Set that has everything for $33 today. [Masters of the Universe Limited Edition, $33]
---
Samsung's affordable 4K monitor has been down to $600 a couple of times before, but it always sold out within hours. Today it's holding steady at $616, if you still haven't snagged one. [Samsung 28" 4K Monitor, $616]
---
Even at $50, the Nook Simple Touch might not look very appealing in the face of the nearly-as-cheap Kindle, but with a little ingenuity, you can turn it into a full-featured E-Ink Android tablet . And yes, you can install the Kindle app on it for access to Amazon's book store. [Nook Simple Touch, $50]
---
They aren't shipping for a few months, but these Bluetooth JBL headphones have never sold for less than $205 until now. [JBL Synchros 400BT Bluetooth Headphones, $171]
---
Games
Gaming Peripherals
PC
pre-order Evolve with $5 credit | Amazon
preorder Lara Croft and the Temple of Osiris plus $5 Amazon Video Game Credit ($18) | Amazon
Thief [Online Game Code] ($15) | Amazon
Legend of Dungeon, Alpha Kimori, Antisquad, Journey of a Roach, Alcarys Complex and Mechanics Escape, Nekro, Miasmata, Longest Journey, SPATE, Fly'n ($4) | Groupees
Legend of Dungeon, Alpha Kimori, Antisquad, Journey of a Roach, Alcarys Complex and Mechanics Escape ($1) | Groupees
Crusader Kings II Collection ($16) | Humble
Brothers – A Tale of Two Sons ($4) | Gamersgate
Sniper Elite: Nazi Zombie Army 2 ($4) | Gamersgate
Sniper Elite: Nazi Zombie Army ($4) | Gamersgate
How To Survive ($4) | Gamersgate
Dead Island Riptide Complete Edition ($6) | Gamersgate
Metro Last Light Complete Edition ($10) | Gamersgate
Desperados Collection ($3) | Steam
Playstation 3
Xbox 360
Wii U
Playstation Vita
3DS
Board Games
Apps
iOS
Android
Media
Home Theater
TVs and Projectors
Home Audio
Streaming Boxes
Peripherals
PC Parts
Home
Inventory
---
See all the upcoming releases here .
June 17
June 24
June 25
Valiant Hearts: The Great War | PS4/PS3/One/360/PC
June 26
Shovel Knight | Wii U/3DS
June 30
Divinity: Original Sin | PC/Mac
---
July
---
July 1
July 8
July 29
---
August
---
August 5
August 12
August 19
August 22
August 26
August 29
---
September
---
September 2
September 9
September 16
September 23
September 26
September 30
---
October
---
October 3
October 7
October 12
October 14
October 21
October 25
October 28
---
November
---
November 4
November 11