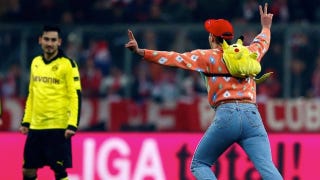 Sports games are no strangers to fans running on the field. Sometimes those individuals are drunk. Sometimes they're just naked—or naked and drunk. Rarely, if ever, are they wearing a Pikachu backpack and truly awful jeans.
As pointed out by Yahoo and ESPN, a fan with questionable fashion sense raced on the field early in the second half of the Bayern Munich vs. Borussia Dortmund soccer match.
Wearing a Pikachu knapsack and looking like he stepped out of 1997, the gentleman's upturned cap read, "Katze!" or "Cats!" The man heroically gave the peace sign and dual thumbs up as he slid on his knees. Security nabbed him and yanked the guy off field. You could say catching this crazed fan was the security guard's real test.
The game might have ended in a 1-1 tie, but the memories of this fan and his bad 1990s fashion sense will live on forever. Never forget!
Invasor 'anos 1980' e com mochila do Pikachu chama a atenção em clássico alemão [ESPN]
A grown man wearing a Pokemon backpack invaded the pitch during Bayern-Dortmund [Yahoo!]