If you've been looking to outfit your Xbox One with some extra controllers, Newegg has the controller with the Play and Charge Kit for $60 today. [ Xbox One Controller]
---
G/O Media may get a commission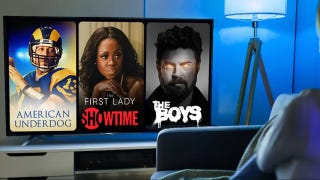 UNDER $1
99¢ Prime Video Channels
Today we've got the Stealth model of your Favorite Gaming Keyboard , the Razer Blackwidow 2014, for $80 plus a $30 Newegg gift card. [RAZER Blackwidow Tournament Edition Stealth 2014 Keyboard plus $30 Gift Card, $80]
---
The Logitech Performance Mouse MX features "Darkfield" laser tracking that lets you use it on almost any surface, including glass. Staples currently has it for $50, or $10 less than Amazon. [Logitech Performance Mouse MX, $50]
---
Quick poll: What's your favorite mechanical keyboard switch?
---
Humble is back with a new Bundle packed with 120 Valiant Comics, plus a free comic every day!
---
Get these deals and more, and earlier on Deals.Kinja. Connect with us on Twitter and Facebook to never miss a deal, check out our Gaming and Movie/TV release calendars to plan your upcoming free time, and join us for Kinja Co-Op to vote on the best products. Got a deal we missed? Post it in the comments with a link and we'll share right to our Deals homepage.
---
There are a couple of solid deals on $100+ headphones today.
Sennheiser Momentum On Ear Headphone ($121) | Amazon
Klipsch Status Over-Ear Headphones ($100) | Newegg
---
25% discounts on iTunes credit are very rare, so get one of these while you can. [ $100 iTunes Gift Card, $75]
---
We had a similar deal a couple of weeks ago, but in case you missed it, here's an official Apple Lightning cable for $9. I ordered one from the same seller, and it's legit. [Official Apple Lightning Cable, $9]
---
Four million people preordered the iPhone 6 , and I'm guessing that many of you will want to protect your investment from day one. To that end, if you have Amazon Prime, and you order one of these cases this morning, it should arrive on launch day. There's a surprising variety of options available, and they're all far cheaper than Apple's first party cases.
This is hardly an exhaustive list, but they were the best looking options I could find. Let us know of any that we missed in the comments!
---
This awesome Sherlock Limited Edition is only $20 off MSRP right now on preorder, but it's going to sell out, so if you want it then get it. [Sherlock]
---
These aren't as smart as Belkin WeMo switches, but at less than $5 each, you might as well give them a try. [ 4-Pack of Remote Control Power Outlets, $19 with code 38U46OFF]
---
Charging gadgets wherever we are is a fact of modern life, but now you can cover your house and your car for just $11. [iClever® 3.1A 15W Dual USB Travel Mobile Wall Charger plus USB Car Charger, $11, scroll down to special offers, use code 47RDXUL6]
---
A $20 Bluetooth speaker is a great deal on its own, but this one actually has an AUX out jack, allowing it to act as a Bluetooth receiver for your other speaker systems. [GOgroove BlueSYNC SRC Portable Bluetooth Speaker & Receiver w/ Rechargeable Battery, $20]
Meanwhile, if you need a Bluetooth transmitter for any old MP3 players or stereos without Bluetooth capabilities, this $20 dongle is an easy way to add them. [GOgroove BlueGATE TRM Wireless A2DP Bluetooth Transmitter / Adapter, $20 with promo code savebtrm]
---
A couple of my favorite iOS apps are on sale today, including 1Password for free. The developer has said that this was a pricing mistake on Apple's part, so your moral compass may or may not steer you away from this one, and in any case, I doubt it lasts long.
FREE 1Password - Password Manager and Secure Wallet | Normally $10/$18
Clear – Tasks, Reminders & To-Do Lists ($3) | Normally $5
---
Gaming
---
Peripherals
PC
Playstation Store Update
Lots of deals this week including Deus Ex, the Hitman series, Just Cause 2, Lara Croft and the Guardian of Light, Mousecraft, and a big Capcom sale.
Murasaki Baby ($12) | Plus
The Swapper ($13) | Plus
PlayStation 4
Xbox One
PlayStation 3
Xbox 360
Wii U
Vita
3DS
---
Media
---
Movies & TV
Books & Magazines
Apps
---
Tech
---
Headphones
Home Theater
PC Parts
---
This post is brought to you by the Commerce Team. We work together with you to find the best products and the best deals on them. We operate independently of Editorial, and if you take advantage of an item we cover, we may get a small share of the sale. We want your feedback.