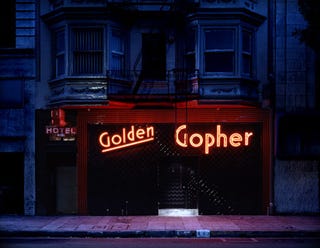 The Kotaku crew is headed to E3 2009 in just ten days. As we do every year, we're throwing a little get together on the eve of E3. And you're invited, dear reader!
The Kotaku crew is once again heading to the lovely and historic Golden Gopher in downtown Los Angeles for a night of drinks, chit chat, and hangover research on Sunday, May 31st, the night before a slew of E3 press conferences and appointments kick off.
This year, we'll be doing things a little different, adding some soon to be confirmed entertainment and giveaways to the refreshment and socializing. Of course, we'll have an open bar (for a limited time!), all sponsored by your good friends at Meat Bun. That's right. Me and my cohorts are going to buy you a drink.
The bar opens at 8 PM, so make sure you're on time and of age if you'd like to spend Sunday night happy hour with us. Yes, that means this is a 21 and over event.