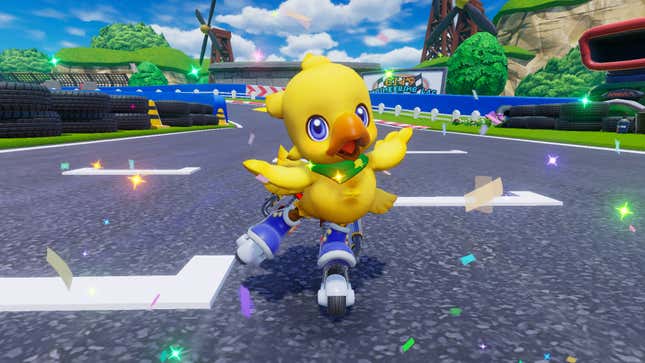 Square Enix's once-abandoned Chocobo racing game, a Final Fantasy spin-off titled Chocobo GP, has received a second chance at life without all the bad microtransactions, which previously ended up nickle-and-diming players for game features.
This Mini Sega Arcade Cabinet Packed With Retro Games Would Make A Great Gift
Chocobo GP's new Nintendo eShop store page shows that Square Enix's Mario Kart-like racing game received a re-release on the Nintendo Switch on June 15. The cutesy racing game's phoenix down-esque revival on the eShop comes as a bit of a surprise considering Square Enix announced it would no longer be supporting the game a mere nine months after its launch day on rival platforms, such as Android and iOS.

Kotaku reached out to Square Enix for comment.
Read More: Square Enix Abandons Its Chocobo Racing Game Just 9 Months After Launch

Chocobo GP is the sequel to Square Enix's '90s multiplayer party game, Chocobo Racing. Chocobo GP players' main point of contention with the unfavorably reviewed racer was that new, exciting characters shouldn't be locked behind paywalls or battle pass grinds. Aside from giving players extra experience points as an apology for the game's grind, the publisher never made changes allowing players to unlock characters without either paying or grinding in the game's battle pass. Square Enix's subsequent announcement of Chocobo GP's sunsetting came after months of players complaining about its grindy season pass being plagued by microtransactions.
In a post on the game's website on the game's website, Square Enix said "there will be no further large scale updates (e.g. new characters or new maps) [added] to [Chocobo GP] after the Season 5 update on Wednesday, December 21." The publisher also revealed players could no longer buy mythril, Chocobo GP's in-game currency, on the eShop, and any unspent mythril would disappear from the game on January 6.

The Chocobo GP re-release comes at a total retail price tag of $50. Oof. If you previously played Chocobo GP Lite, Square Enix's stripped-down free-to-play version of Chocobo GP, you can transfer your save to the game's re-release version by buying an "upgrade" DLC for the Lite version. Which is nice.