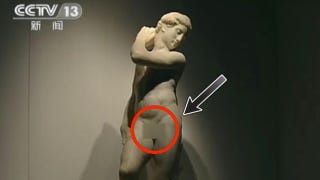 Kotaku East
East is your slice of Asian internet culture, bringing you the latest talking points from Japan, Korea, China and beyond. Tune in every morning from 4am to 8am.
If you go to an art museum, you're bound to see naked people. That's okay! That's art. And when you are talking about artists (well, we are), everyone can agree that Michelangelo is one of the artistiest artists there ever was. His naked people are fine, because they are art.
Apparently China's governmental TV missed the memo! When CCTV showed Michelangelo's David-Apollo sculpture, which is part of an exhibition of Italian Renaissance art, it blurred out David's little Apollo. Hello 21st century fig leaves!
Online in China, people seemed irked by the censorship. It even became a meme or sorts (via Tea Leaf of Nation), with people putting clothes on a wide array of art.
According to a producer for Nanjing television, the government TV probably thought the imagery "would hurt public morals or would have a serious negative effect upon audiences".
The public outcry must've been heard, because in the CCTV broadcast three hours later, the statue appeared uncensored. CCTV has not given an official response as to why it censored the work of art in the first place.
CCTV News Censors Michelangelo's David-Apollo, Then Uncensors [ChinaSmack]