Like school graduations in the US, Chinese graduations also have commencement speeches; speeches where possibly famous or respected people give a"pep" talk of sorts to inspire the new grads. In one university in China, the commencement speaker took to a slightly different route with his speech, to urge new grads to stop playing video games.
During this year's commencement at Wuhan's Huazhong University for Science and Technology in Hubei province, university president Li Peigen gave a commencement talk about growing up. In his speech, he told his 8000 graduates to "grow up and forget about school," and most importantly to lose the attitude that life is a "game".
Below is a translated excerpt of Li's speech. *It's very hard to translate Chinese poetry in English with it's prose and imagery*
When you leave these halls, you must say good bye to dorms that don't have air conditioning.
Say goodbye to the unbelievably cheap canteen that didn't make one cent off of you.
Sleeping in is very sweet,
Playing DOTA is so very awesome,
Cutting classes feels so fine.
Choosing classes is a pain,
But life continues on,
You just have to say goodbye forever to this mentality that life is but a game.


One of the students at the commencement captured Li's speech and posted it online. Tencent's own reporting of the video has garnered over 9 million views since the video surfaced this weekend.
While at first glance in English it might look like Li isn't out right telling his students to stop playing DOTA. In Chinese he is tacking the thought onto to his last line saying "goodbye to this mentality." Li wants his students to "grow-up" and move on from their college lives and move on from DOTA.
G/O Media may get a commission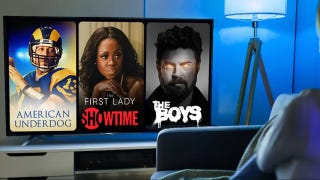 UNDER $1
99¢ Prime Video Channels
Li, a professor of engineering with a name that sounds like bacon in Chinese, has been giving poetic commencement speeches to college graduates for the last three years. Every year's topic has been different. This year's speech caught the eye of the general public in China not because Li called out Defence Of The Ancients but for his interesting way of speaking to his graduates.
Online reactions to Li's speech has been oddly receptive. Apart from the haters against Chinese higher education (and they have every right to hate on Chinese higher education) most of the comments supportive of Li's message for the graduating class to grow up, particularly his one line about not nibbling at life but seizing it.
zhangks_asic: Uncle Gen has done it again, speak on Uncle, speak on.

一缕春光2: Students should play "Dragon's Gate" instead! It will help you level up in life!

有机天使56007498: My child is taking the college entrance exams this year. With university heads like him, there might be hope for our future.
: This advice can be thought of as "Golden Armor" (Rare equipment)
In video interviews with the graduating class of 2013, the students all seem very receptive of Li's speech for them to grow up and work hard. However no one's come out and said they'll follow Li's advice and stop playing DOTA.
Kotaku East is your slice of Asian Internet culture, bringing you the latest talking points from Japan, Korea, China and beyond. Tune in every morning from 4am to 8am.
Eric is Beijing based writer and all around FAT man. You can contact him @FatAsianTechie@gmail.com or follow him on Twitter @FatAsianTechie.