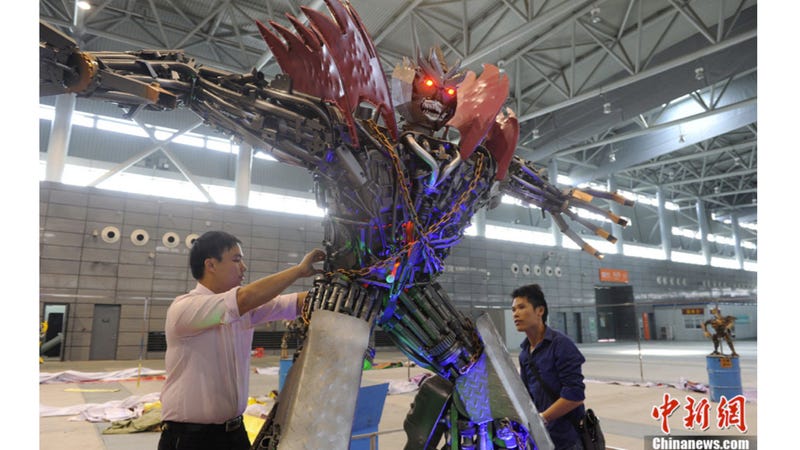 There's more than meets the eye with these Transformers. You are actually looking at scrap—discarded car, motorcycle, and machine parts—that has been lovely sculpted into the iconic robots. Thank Chinese Transformers fans for that.
Twenty-three Chinese diehards created Transformers robots like Optimus Prime, Megatron, and Bumblebee from junk. As ChinaNews (via ShanghaiIst) explains, some of the robots can move their limbs, spray mist, and are able to play pre-recorded messages. The tallest is nearly ten feet high, with over 1,300 parts and weighing nearly one ton.
Until October 5, the Transformers are on exhibit at the Binhu International Conference and Exhibition Centre and hope to raise awareness about the environment.
The same twenty-three fans seem to have exhibited their robots, which took them three years to make, earlier this spring in Sichuan, China.
30多吨汽车废铁打造变形金刚集体亮相成都 [ChinaNews]
23名"打工仔"废旧汽配打造38个"变形金刚" [ChinaNews via ShanghaiIst]
To contact the author of this post, write to bashcraftATkotaku.com or find him on Twitter @Brian_Ashcraft.
Kotaku East is your slice of Asian internet culture, bringing you the latest talking points from Japan, Korea, China and beyond. Tune in every morning from 4am to 8am.