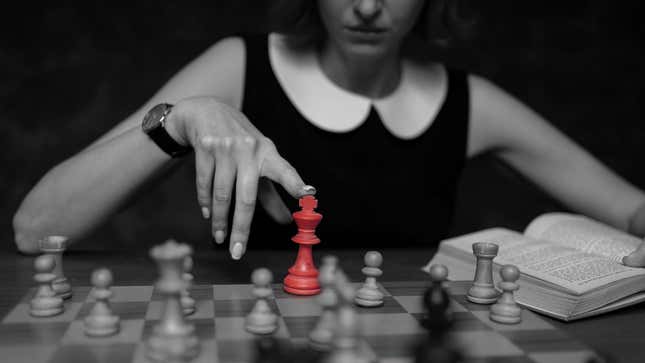 Disturbing accusations of "grooming" and sexual abuse have recently rocked the world of professional chess. Grandmaster Alejandro Ramírez is reportedly currently under investigation by two major chess organizations, as detailed in reports from fellow chess grandmaster and advocate for women's participation in the game, Jennifer Shahade.
These Great Fortnite Creative Maps Show Us What's Possible
On February 15, Shahade (who is also a professional poker player) tweeted out "Time's Up" along with screenshots of a lengthy statement revealing the alleged "multiple investigations" male chess grandmaster Alejandro Ramírez is currently facing from the both Saint Louis and US Chess clubs. With over two million views and hundreds of retweets, others have since replied with similar accounts of Ramirez' behavior.
"Currently there are multiple investigations underway on Alejandro Ramírez and sexual misconduct, including a series of alleged incidents involving a minor," Shahade says in her original statement. Revealing that she too had allegedly been assaulted by Ramírez twice in the last decade, Shahade recounts that she had "moved on until the past couple of years, when multiple women, independent of each other and with no knowledge of [her] own experience—approached [her] with their own stories of alleged abuse."
Shahade's tweet elaborates on the details of these accusations. "I saw alarming evidence," she claims, "including texts that admitted abuse of a minor while he was coaching her, as well as a text to an alleged victim about being an underage 'temptress.'"
In a follow-up tweet, Shahade said that "four more women have contacted me about alleged misconduct from Ramírez, ranging from harassment to sexual assault to grooming students. Seven if including second-hand reports." A day later, Shahade reported hearing from even more women who had stories of alleged abuse/assault by Alejandro Ramírez.
Kotaku has reached out to Jennifer Shahade and the Saint Louis Chess Club for comment.
Having earned the title of grandmaster in 2004, Alejandro Ramírez, 34, previously represented Costa Rica, his country of origin, before joining the US Chess Federation in 2011. Serving as the current head coach for both the Saint Louis University Chess team and the U.S. Women's World Chess Olympiad team, these accusations are particularly disturbing given Ramírez' success and current status in the chess world. In a statement to Chess.com, Ramírez said:
Although I cannot comment on the specifics of Ms. Shahade's assertions due to pending investigations by the US Chess Federation and the St. Louis Chess Club, I understand the concern raised by the allegations levied against me. I am fully cooperating with both inquiries and look forward to the opportunity to respond to these charges and share my side of the story.
Kotaku has reached out to Ramírez for additional comment.
The allegations and investigations follow more open conversation and testimonials from other female chess players on the challenges of being a woman in a male-dominated space.
As is painfully unsurprising, first-hand accounts detail an environment of rigid gatekeeping of women, where simply having a female name feels like a burden, as well as anecdotes of abuse and intimidation. The discussion has sparked a call for other women to come forward with their experiences.