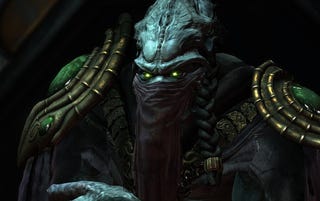 Today, Blizzard released Whispers of Oblivion, a free prologue to StarCraft II: Legacy of the Void that you can get now if you want to pre-purchase the game. (If you don't feel like shelling out $40 for a game that won't be out for at least another few months, don't worry: Oblivion will be free for everyone later this year.)
We'll have impressions of the three-mission Zeratul campaign tomorrow, but for now, thanks to the power of Vine, here's a quick look at some of the Dark Prelate's new abilities, which you can use in the final mission:
You can reach the author of this post at jason@kotaku.com or on Twitter at @jasonschreier.