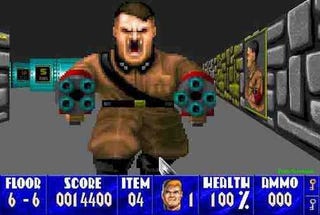 On this day 120 years ago, the headman behind World War II and the Holocaust was born in what was then known as Austria-Hungary. He died in 1945, but lives on in video games as the eternal bad guy.
"Celebrate" Hitler's B-day or just seize an excuse to play video games with the following titles where the Fuhrer makes many an appearance either as a vague threat or an actual character you can kill (or at least punch).
Note: This list was put together from two different lists and half-remembered boss fights from my childhood; if you spot an inaccuracy or want to add to the list, hit me up in the comments.
Axis & Allies
Bionic Commando (Japanese version)
CannonCrotch
Capcom Classics: Mini-Mix (includes Bionic Commando)
Castle Wolfenstein
Command and Conquer: Red Alert
Empire Earth
Indiana Jones and the Last Crusade
Medal of Honor: Frontline
Medal of Honor: Heroes 2
Operation Darkness
Operation Europe: Path to Victory 1939-45
Persona 2: Innocent Sin (I think only the Japanese version There's only a Japanese version)
Return to Castle Wolfenstein
Rush for Berlin
Snoopy vs. the Red Baron
Time Twist: Rekishi no Katasumi de...
Total Carnage
War Front: Turning Point
War Times
Wolfenstein
Wolfenstein 3D
Adolf Hitler [GiantBomb]
Adolf Hitler in popular culture [Wikipedia]