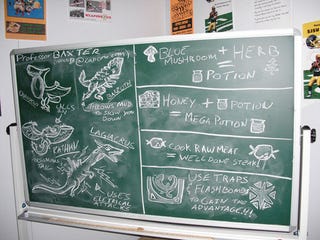 I go to a lot of preview events every year and not many of them have the wherewithal to establish a theme, let alone stick to one so well as Capcom did last night at Monster Hunter Tri University.
Not only were there an obscene amount of chalkboards, pennants and people in school kid uniforms — there was an actual lecture from Monster Hunter Tri Producer Ryozo Tsujimoto, complete with pointing stick and warnings about getting kicked out of class for sleeping.
The only thing about the event that didn't smack of school was the theme drink list — hence the A- instead of a perfect score. I must've been to a hundred pep rallies between being student body president in high school and president of the anime club in college — and not once did any of my institutions of higher learning shell out for drinks.
You can check out the cocktail list below. Here's the swag report (all of which will be up for grabs at Ümloud!):
1 Ginormous sweatshirt I will never wear
1 Fancy-looking notebook
1 Monster Hunter "Field Guide"
1 Set of pins, featuring cutesy character Cha Cha
1 Backpack of significant sturdiness