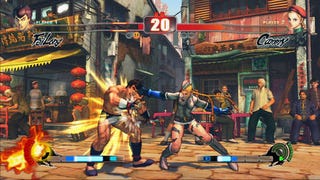 During the early part of 2009 Capcom received mixed reactions from readers of sites like this one regarding the release of downloadable content for Resident Evil 5 and Street Fighter. The company is moving ahead with more.
Capcom offered the following as one of its strategies for the second half of its fiscal year, which ends on March 31, 2010.
Use digital distribution to maximize opportunities to sell software
-Sell game software by using network downloads in order to give users more options.
-"Marvel vs. Capcom 2", "Fate / unlimited codes" (overseas), and others
-Constantly offer upgrades and earn profits by using PSN and XLA [sic] to distribute additional content.
-Constantly sell "Resident Evil 5", "Street Fighter IV" and other additional content
Paid downloads for Street Fighter IV from earlier this year included $4 packs containing five alternate costumes for the game's fighters. (Check out a full list and reader reaction.)
Resident Evil 5's prominent paid download was its $5 competitive multiplayer mode add-on. While some gamers complained that the modes should have been included in the base $60, Capcom countered by explaining that the additional content was budgeted and developed separately.
Capcom was unable to provide Kotaku with sales figures for any of that content.
Capcom's next releases on the PlayStation 3 and Xbox 360 are Dark Void, Lost Planet 2, Super Street Fighter IV, and Resident Evil: Alternative Edition. No concrete DLC plans have been issued yet for any of those games.