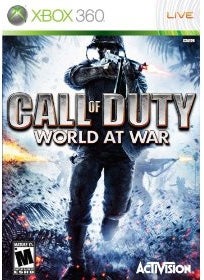 Those of you itching to spend some quality time early next year shooting other people in World War 2-era gear might want to hit up today's Amazon.com Gold Box deal, featuring COD: World At War.
Call of Duty: World at War seems to be one of those titles that retailers have been crazy about discounting this year, hasn't it? Over the course of the holiday I've seen it on sale at GameStop, Walmart, and at least 2 separate times at Target. Now Amazon.com has made it their Gold Box Deal of the Day, cutting the price from $59.99 to $34.98 for the Xbox 360 and PlayStation 3 versions...and it looks like the PS3 version has just sold out. Oops.
It's a great price for a pretty great game. If you've not picked it up yet, now's your chance. Hurry though...it's only on sale until 3AM Eastern or while quantities last, so this is the last chance to get World at War discounted until the next time they discount it.