Music of the Spheres, an eight-part musical compilation that was originally meant to release alongside Destiny in 2014, may get an official release soon, although its composer says he had no idea that was the plan.
The album, composed by Bungie's well-known former audio director Marty O'Donnell, his partner Michael Salvatori, and former Beatle Paul McCartney, had been shelved for years after Bungie fired O'Donnell in April 2014. Teenager Owen Spence spent years trying to piece the album together using tracks that Bungie had released and put inside of Destiny, and last Christmas, someone sent him a leaked copy of Music of the Spheres, which Spence quickly put online.
Last weekend, four months after the leak, Bungie sent Spence a cease-and-desist letter, telling him that the studio planned to release its own official version of Music of the Spheres. The letter, obtained by Kotaku, tells Spence to pull the album and destroy all copies that he owns. "Bungie appreciates your passion for these works, but there are legal limitations that apply to the use and distribution of this music," said the letter. "For example, Bungie cannot allow others to copy, distribute, make derivative works of, perform publicly, or display publicly the Music of the Spheres intellectual property without prior express written permission from Bungie."
When Spence wrote about this on Reddit, Bungie community manager Chris "Cozmo23" Shannon told fans that an official release is in the works, making for this amusing exchange between him, O'Donnell, and Destiny 2 live lead Chris Barrett:
G/O Media may get a commission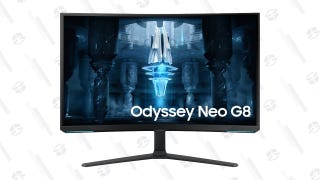 Samsung 32" Odyssey Neo G8 Curved Gaming Monitor
(Barrett's line is a reference to a lyric from Music of the Spheres, which you can hear in this wonderful video.)
I e-mailed O'Donnell to ask for clarification on this whole situation, and he told me he had no idea this was coming:

Owen Spence, the kid who leaked it at Christmas, wrote me last week and showed me the cease and desist he received from Bungie's lawyers. Then I saw that his stuff was being taken down so I tweeted a warning to my followers about downloading while they still can.

Next thing I see is a Reddit post from some kid I don't know (Cozmo?) who stated that Bungie is about to release MotS officially. Which kinda ticked me off since that was the first I heard of it.
Upshot is that I'd love to stop being snarky about Bungie, but they just can't seem to stop insulting me.