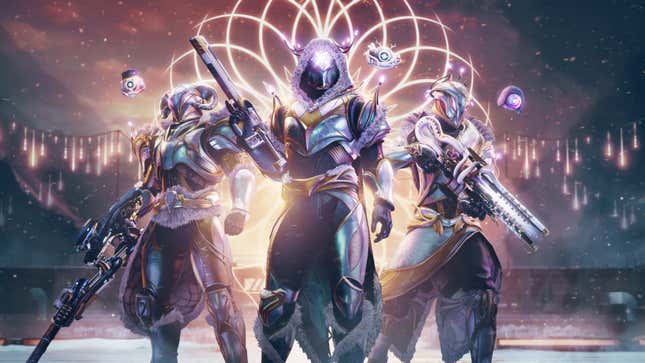 Bungie's two-year legal battle against a Destiny 2 cheat maker finally concluded last week. The judge agreed that cheat maker AimJunkies had violated Bungie's copyright and ordered it to pay over $3.6 million in damages and $700,000 in legal expenses.

The Witcher 3 Meets Tense Roguelike PvE Card-Battling In Rogue Mage
AimJunkies is a website owned by Phoenix Digital Group, which creates aimbots for Destiny 2 and other FPS games. The first lawsuit started in 2021, and the courts initially favored AimJunkies, with a judge dismissing some of Bungie's claims after finding that making cheats wasn't an inherent infringement of copyright. Bungie re-filed its lawsuit in May, and the cheat maker took on a more aggressive strategy to defend itself from Bungie's other lawsuits. AimJunkies even tried to claim that the developer had violated its copyright by reverse engineering the code for its cheat software.
According to the documents found by Torrent Freak, the courts found that AimJunkies violated Bungie's copyright on Destiny 2. One of the cheat's engineers reverse-engineered the game code in order to create and sell the aimbots, often circumventing bans to do so. This was a direct violation of the software licensing agreement that he had to accept in order to download the game.
The judge thought that Phoenix Digital Group had not been particularly cooperative with the developer's legal requests. After Bungie sent the company a cease-and-desist order, AimJunkies' owner falsely claimed that he had already sold the website. The court also found that Phoenix Digital Group had "deleted records of cheat software and destroyed financial records related to the sales of the cheats."
The company's willingness to "conceal" its cheat sales contributed to a heavier punishment than it otherwise might have received. The judge awarded Bungie $2,500 for each of the 1,361 violations. The damages came to a total of $3,657,500. The court also awarded Bungie $738,722 in legal fees.
While the previous lawsuit from 2021 found that making Destiny 2 cheats did not violate Bungie's copyright, the current judge believed that the software had violated Washington's consumer protection laws. The court decided that players who use cheats have an unfair and deceptive advantage over players who don't.
So there you have it: A combination of copyright laws, destruction of evidence, and gamer rights helped Bungie's lawyers secure over four million dollars in fees and damages.