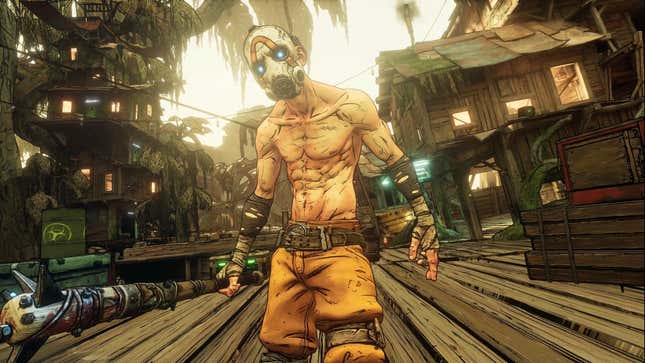 On May 9, a Borderlands 3 player lit the popular subreddit r/Gaming ablaze. They posted a photo of an error message on their Xbox Series S, which indicated that the console had run out of video memory. Not long after, the post was inundated with tons of comments saying the same thing: This happens all the time when playing Gearbox's 2019 looter-shooter.

Hollow Knight: Silksong's New Gameplay Trailer Is Living Rent-Free In Our Brains
Read More: The Best And Worst Parts About Every Borderlands Game

Borderlands 3 originally launched on PC, PlayStation 4, and Xbox One in September 2019, and developer Gearbox Software ported the game to PlayStation 5 and Xbox Series S/X in 2020. The move to current-gen hardware was a free update for folks who already owned the game, which included some extra updates like 4K visuals, a solid 60 FPS, and three-to-four-player local splitscreen multiplayer. Additional patches in 2021 and 2022 brought cross-platform play to Xbox and PlayStation, respectively, allowing friends across systems to collect loot together. Basically, Borderlands 3 right now is what it should've been off the rip–but this VRAM leak issue is threatening to upend its progress

Borderlands 3 causing Xbox Series S to crash
In their May 9 post, jokekiller94 shared an image of their Xbox Series S apparently running out of video memory while playing Borderlands 3.
"Error: Out of video memory trying to allocate a rendering resource," the message read. "Make sure your video card has the minimum required memory, try lowering the resolution and/or closing other applications that are running. Exiting…"

"Apparently the series S can run out of VRAM," Jokekiller94 titled the post.

VRAM, or video random access memory, is a type of dynamic internal memory used to store image data for even and smooth graphics on computer screens. It's a necessity for 3D graphic design programs and video games, as VRAM taps directly into your device's GPU to render polygons into discernible images. So, if your VRAM is at capacity, not only will images look ugly AF, it's possible your game or program will crash as the system attempts to allocate its internal resources. And since each game or program has different VRAM appetites, it can become difficult to determine just how much any one needs, leading to memory leaks.

This Borderlands 3 VRAM issue seems to affect multiple players
An assortment of redditors flooded jokekiller94's post to say they've encountered the same sort of issue when playing Borderlands 3.

"This happens on Borderlands 3 all the time," said one redditor. "That or a straight-up freeze/crash. For some reason, it runs well on the [Xbox] Series S until it doesn't. Several crashes per (lengthy) game session; seems Gearbox did a shit job of optimizing it. Runs fine on the Series X, though."

"It's not the console, but the game," Tarnishedo chimed in. "This is an issue with Borderlands 3, Remnant: From the Ashes, and a few other games. It's a bad bug, and once you have it, it never goes away."

"That's Borderlands 3? I'm not surprised," said RLD-Kemy. "The game can stutter on PC if you don't set the textures at the right level for your GPU/VRAM. But I guess it can manage to cache it on RAM when you run out of VRAM."

"Borderlands 3 is an absolute resource hog," redditor zjm555 replied. "Of all the games I've ever played on my PC, this one is the one that nearly fried it."

"Borderlands 3? Yeah, that's been a thing since the next-gen update came out," SuperBAMF007 commented, concluding that it's "super stupid."

While the game has a "very positive" rating on Steam, some players have posted as recently as May 15 that Borderlands 3 is "terribly optimized." One person said it crashed right when they got a legendary drop, while another claimed it "suddenly started crashing and [refused] to launch" the moment they fell out of the platform's refund policy.

Kotaku reached out to jokekiller94 for comment but didn't get a reply in time for publication. Microsoft declined to provide a comment on the record.

In an email to Kotaku, a 2K spokesperson said the team is "aware of and investigating an issue some Xbox Series S players are experiencing" and that folks should "contact 2K customer service" if they need assistance.
Read More: Every Borderlands Game, Ranked From Worst To Best
This VRAM issue doesn't seem to be everyone's experience. Steam players say that this is the best Borderlands 3 has been in a minute. Still, it's unfortunate that a game that's been out since 2019 is running into such issues on Xbox Series S. It's pretty big, taking up approximately 75GB of internal space, which makes it a difficult recommendation when consoles have such limited hard drive capacities. Here's hoping Gearbox takes notice and addresses the ongoing problems with Borderlands 3.