Borderlands 2 is funny, smart, and gorgeous. The controls are tight, hooking up with other players is a dream, and the PC port is one of the best I've ever seen. The Torgue campaign is hilarious and memorable, just like previous campaigns. It seems like the game's hitting all the right buttons.
My cursor hovers over the Borderlands 2 launcher, the word "Play" enticing me, but, for some reason, I glance at my desktop computer, wishing the hard drive hadn't started death-clicking on me. My Xbox 360, sitting on the shelf above, stares at me forlornly, begging me to return to Assassin's Creed's Constantinople.
I've got to play this, right? Most of my games are sitting on a hard drive I can't afford to replace, and I'm always in the mood for a shooter, so what's stopping me? Why do I feel like I'm obligated to play Gearbox's latest endeavor when I should be looking forward to the experience?
I've been struggling with Borderlands 2 for weeks.
At first, I thought that I might be in some sort of gaming funk. The past few weeks have been extraordinarily stressful for numerous reasons, and I haven't been able to take a break to deal with outstanding health concerns, which is generally the recipe for this kind of malaise. However, if that were true, and this was a funk, I wouldn't have spent two hours the other day playing Assassin's Creed Revelations, nor a few hours earlier in the week playing FTL. I'm enjoying games just fine—it's Borderlands 2 that seems to be the issue.
G/O Media may get a commission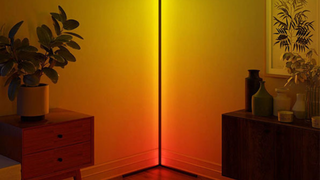 Save 60%
Minimalist LED Corner Floor Lamp
Humor isn't doing it for me today, and it hasn't been for a few weeks now, though the jokes themselves are often hilarious. Even a month ago, when I was nearing the end of Borderlands 2's Captain Scarlett and Her Pirate's Booty DLC, the humor wasn't doing it for me. I'd sigh at yet another hilarious quest prompt, roll my eyes at the latest joke, no matter how funny, and dutifully head off to shoot more pirates.
Actually, I think that might be where the problem lies.
Ask anyone what a Borderlands game is about, and they'll tell you "guns." They'd be wrong. A Borderlands game is no more about the weapons it uses than any other game in its genre. See, while the two main games in the series are played in a first-person perspective, they borrow as much, if not more, from games like Diablo and Torchlight.
Borderlands isn't about guns, it's about loot. And that's a big problem. As I expressed earlier, in Stephen Totilo's wonderful piece on why we like to shoot, the first person perspective can be an incredible one if the game uses it to its strengths. If a shooter treats the game space like as if it's real, players are in for a diverse, intelligent experience.
Borderlands doesn't really do that.
Borderlands isn't about guns, it's about loot. And that's a big problem.
If anything, the game's quite simplistic. The enemy will see you, enter a combat state, and shoot or melee the user. Sometimes, they will take cover, but that's about as far as their intelligence goes. With Borderlands, you don't do much more than point at guys and make the red bars get smaller, which means, to paraphrase the classic GamePro advice, shooting them until they die. Most good shooters go beyond that. In FEAR, they call in reinforcements, flip over tables to create cover, distract you to allow their friends to flank, and it all feels right. In Halo, an Elite will make use of his grunts, turning them into meat shields when his shields pop. In Far Cry 2, putting a sniper round through a mercenary's kneecap will inevitably result in his allies coming to check on him.
These games treat their world as real and their inhabitants more so. They make use of the first-person perspective, of that idea of immersing the player within a world, and they take it as far as they can. Borderlands 2, on the other hand, treats its enemies in distinctly different terms. Its enemies are mobs to be aggroed while you blast them with AOE attacks and whatnot. They're not treated like people inhabiting a space; they're treated like concepts with legs, bipedal ideas given malicious form.
Shoot shoot, bang bang, visual effects. On to the next guy.
A good shooter should feel like a stew of sensory data, feedback, use of space, and artificial intelligence. Everything should fit together in a way that feels right—in a way that somewhat emulates actually being in a space, because that's really what first-person games are all about. It's not just a camera perspective, it's a way of creating a mindset. When a game's too gamified to matter, players feel a disconnect between purpose and place.
Of course, Gearbox could improve the AI, feedback, and level design, but that might not fix everything. The guns, for instance, are random. With any melee game, particularly an isometric title, like Diablo III, varying stats don't really matter all that much. They tend to determine how many numbers pop up when you click on a guy, and little more. With shooters, things are a bit more complex.
The best shooters not only treat space like it's real, but encourage players to explore that game space, thinking about where cover is, where enemies are, where gunfire is going, where their gunfire is going, how to game enemies into different space, and so on and so forth. Any first-person game is at its best when its focusing on movement just as much, if not more so, than combat. That games like Halo, Dishonored, and Mirror's Edge have an appeal is ample evidence of the importance of motion.
In a shooter, one of the best ways to facilitate and vary player movement is to arm the player in different ways. A combination of Halo's Needler and Shotgun will facilitate a distinctly different kind of movement through the game space than a loadout with the DMR and plasma rifle. With a Needler, players can utilize the age-old tactic of "spray and pray," focusing more on movement rather than accuracy, allowing the player to dodge enemy fire and get up close, finishing off stragglers with the shotgun. A player carrying a DMR and plasma rifle might use the latter to pop an Elite's shields, then swap to the DMR and finish it off with a headshot. Other factors, like AI, use of grenades, and line of sight will affect motion as well, but the guns, above everything else, affects the way the player navigates the game's space.
Generally, there's very little intelligence required of the player.
Borderlands doesn't really pay much attention to its guns, because of its devotion to a Diablo-esque combat system. It's too busy thinking about crits and elemental damage to focus on gunplay, so generally, there's very little intelligence required of the player. Just pick the right "build" of weapons (use acid weapons on just about everything), get into cover when your health bar is low, and just point at guys and click on them.
Nothing to it.
And that, I think, is the problem.
I want more out of a shooter, whether it's to toy with the AI and maps, as in Dishonored or Crysis, or to focus on the right weapon combinations and moment-to-moment movements, like Halo or FEAR. I want to have fun playing a shooter, and honestly, I think Borderlands is missing all the core details that make shooters good. The game's at its best when I'm playing with my friends, and given how hectic my schedule has been the past few weeks, that's been next to impossible.
So, here I am, sitting at my computer, finger ready, yet somehow restrained. Borderlands 2, as gorgeous, outrageously funny, and beautifully made as it is, just isn't doing it for me. I sigh, again, ready to click... when I realize I don't have to play it if I don't really want to. I'm not entirely out of love with Borderlands 2. It's pretty much the perfect online co-op game, after all. But for now, I think I'm done riding solo. So, instead, I grin, clicking FTL: Faster Than Light, and prepare to get killed by space pirates.
GB Burford's childhood discovery that he could modify Microsoft Flight Simulator to allow behaviors the programmers hadn't intended spawned a life-long fascination with video games and their development. Now, he writes about video games and occasionally dabbles with making his own. His Twitter handle is @ForgetAmnesia.