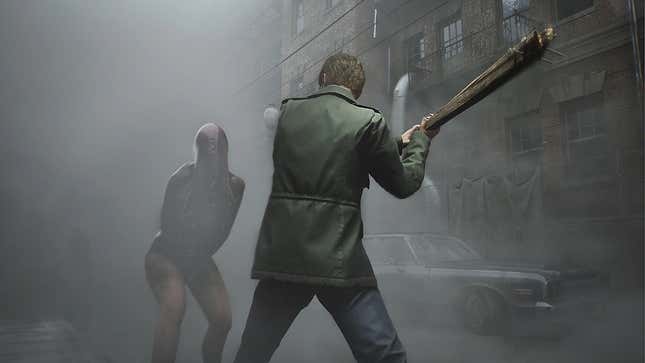 Polish horror game developer Bloober Team told Engadget it's leaving the psychological horror subset—a genre that defined all of its biggest titles, like Layers of Fear and the cyberpunk title Observer—far behind. The studio is currently responsible for the (impossible, diehard fans say) task to remake Silent Hill 2 and says it's time to lean fully into "mass-market horror."
Horror Game You've Never Heard Of Is Scientifically The Scariest Ever
"This year is like closing the era of making psychological horror games," Bloober co-founder Piotr Babieno said to Engadget. "Right now we are going into Bloober Team 3.0, making mass-market horror."

Since Konami's Silent Hill series features dead wives, hallucinations, and foggy, physical manifestations of grief, its horror is arguably very psychological, and some fans seem confused about Bloober's distinction.
But all Babieno means, he explained to Engadget, is that Bloober is ready to branch out from the slow-moving, cryptic games it's become entwined with.

"[In our past games, we] focused on the story, we focused on the mood, we focused on the quality of graphics and music, but we didn't put a lot of attention on the gameplay mechanics," he said. "It wasn't our target. But we decided that there was a ceiling that we couldn't break if we did not deliver something fresh, something new."
This seems encouraging to me. Bloober's recent "reimagining" of the Layers of Fear series was disappointing evidence of the studio's inability to handle some sensitive topics, like mental illness and women's issues like "hysteria," with grace. Bloober needs a refresh. And since the Silent Hill 2 remake, which does not yet have a release date, will also tackle many fragile topics, now is the perfect time for Bloober to reassess its approach to games.

"We are touching something sacred," Babieno said about working on Silent Hill 2.

He understands that his studio's interpretation of the 2001 game will be divisive no matter what, but as part of Bloober's new mass-appeal initiative, Babieno said players can expect all forthcoming titles to have "a lot of gameplay mechanics" and to "be much bigger" than past Bloober games.