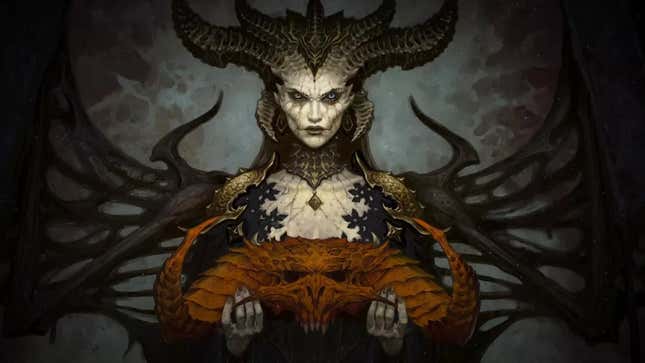 Back in July, a group of 21 quality assurance workers at Activision's Albany studio—formerly known as Vicarious Visions—announced their intentions to unionise. Today, the National Labor Relations Board have confirmed that their vote can go ahead.

This Mini Sega Arcade Cabinet Packed With Retro Games Would Make A Great Gift
The ruling came about because—and stop me if you've heard this one before—publishers Activision Blizzard initially opposed the move, saying that a larger group of 88 developers should be included in the vote. It was a textbook piece of union-busting that has also been tried at other Activision studios going through the process of unionisation.
In this case it hasn't worked; the NLRB's ruling today clears the path for the workers to vote on forming a union, disagreeing (in a detailed breakdown explaining how work differs between each of the studio's departments, and how underpaid testers are) with Activision's claims that, "we believe every employee in Albany who works on Diablo should have a direct say in this decision."
The ruling concludes:
Based on the above, I conclude that the employees in the petitioned-for unit share a community of interest. I have also considered the similarities that exist among the developers and compared this to the testers. Developers are organized in separate departments, but departments that ultimately report to the head of the Diablo franchise. Developers have a diverse set of skills, training, and duties, but use these skills in a complementary manner in a production process that includes significant amount of contact and a high degree of functional integration. Compensation varies, but many terms and conditions of employment do have overlap among the developers.

Comparing the developers' community of interest to that of the testers I find that the distinct interests of the testers outweigh the similarities that exist with the developers. As noted, the testers participate in the same game development process that includes significant contact and functional integration. However, testers are separately organized in their own department and their supervisory hierarchy is entirely separate from the Diablo franchise. Testers also have a specific set of skills and duties different from the developers. Finally, testers are paid significantly less than developers. Moreover, the evidence of interchange between testers and developers is extremely limited. For these reasons I find any shared interests between the testers and developers do not outweigh the separate interests that make the petitioned-for unit an appropriate unit.
The ruling instantly clears the path for an election, which will begin soon. Ballots will be sent out on October 27, with votes being counted on November 18.
A current employee at the studio, though not one of the testers involved in the vote, told the Washington Post, "It's about time. Our QA testers are some of the most talented and skilled people working in our company and they are critically undervalued by corporate. I think that all games workers need a union, but QA is in especially dire need."
Update 10:00pm ET: Lulu Cheng Meservey, Activision Blizzard's 'executive vice president, corporate affairs and chief communications officer', has responded to the finding on internal communications, writing:
Hey all, quick heads up on something important. It's a long one but wanna be thorough so thanks for bearing with me. This afternoon the NLRB (national labor relations board) determined that -20 QA (quality assurance) testers working on Diablo in Albany will be eligible to form a union and if the union wins the vote will be included in the bargaining unit.

Where the company stands on that: fully respects the NLRB process, and fully supports the employees' right to choose how they want to be represented. Also has the view that people who work closely together should be able to make decisions like that collectively - ie, we disagree that a handful of employees should get to decide for everyone else on the future of the entire Albany-based Diablo team. We think a direct dialogue between company and employees is the most productive route.

Examples: through direct dialogue we've already converted contingent QA staff to full time, increased pay, increased benefits, opened up access to the bonus program, and offered more opportunities for professional advancement (which would also result in more pay).

We feel collective bargaining is comparatively slow- once agreement is in place takes over a year on average according to a Bloomberg analysis. During the long contract negotiation, companies are forbidden from giving any pay/bonus/benefit increases without a special arrangement with the union, and the Bureau of Labor Statistics has reported that non-union employees generally get larger pay raises than union-represented groups. That's consistent with what we saw with Raven, where there have only been three bargaining sessions since the union was certified there almost 6 months ago, due partly to the union cancelling pre-planned bargaining sessions for a month.

I'm sharing all of that because having a streamlined process is a reason why the company prefers direct discussions - but ultimately it's up to employees and everyone should get to vote their own preference in a fair election.

What happens next with this is that ballots will be mailed to eligible Albany-based employees on Oct. 27, need to be returned by Nov. 17, and will get counted by the NLRB on Nov. 18.

More to come as the process continues but wanted to share asap. Thanks so much for reading everyone.
Update 11/2/22 12:33 p.m. ET: Activision is now appealing the decision with the NLRB and calling on it to stop the vote in the meantime. Specifically, the company wants the votes that were already sent to employees' homes to be "impounded" until the appeal is completed, lest any preliminary results "prejudice" a future vote in the event that Activision wins the appeal.
The company argues that video game development is unique and unprecedented compared to other industries the NLRB has dealt with, and for that reason its original decision was flawed and based on several misunderstandings. As just one example, Activision insinuates that the development of Diablo is much more complex than Call of Duty, and therefore teams at Blizzard Albany are much more integrated than those at Raven, where Activision's legal arguments previously failed.
"It's clear the company's executives feel threatened by workers organizing in New York, Wisconsin and across the country," responded CWA Secretary-Treasurer Sara Steffens in a statement. "We are confident in the NLRB's response to these frivolous requests, and we will continue to push for Activision Blizzard employees' right to organize without delay."
Update 11/2/22 2:55 p.m. ET: Activision spokesperson Rich George provided the following statement:

We deeply respect our employees' right to choose whether to be represented by a union and to make an informed decision for themselves in a process where every voice is heard. Given the significant impact this decision could have for everyone on the Albany-based Diablo team and the tight integration of our operations there, we believe strongly that each of the 107 eligible employees deserves to have their votes counted, not just the 18 quality assurance testers who are important employees but make up a small fraction of the team. We are pursuing an appeal to the NLRB regarding its proposed bargaining unit, because companies as well as union organizers have the right to make their case.