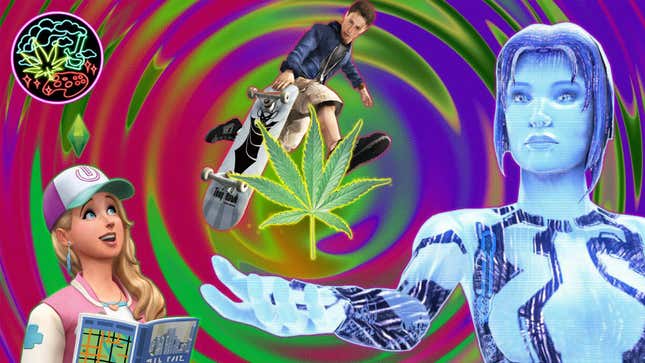 Throughout the years, stoner culture and gamer culture have become enmeshed, occasionally being mistaken for each other. While it may be a somewhat tired cultural connection (stoners are lazy, gamers are lazy, blah blah), there's no denying that the two are quite complementary. They work well together, and have for decades, offering us gamer bongs that look like you're taking a rip out of a warp pipe, herb-inspired skins in Call of Duty, and debates over whether or not smoking weed increases your performance in games like that one.
Read More: Which Video Game Merchants Would Sell Good Weed?
Your college roommate who perpetually had a bong in his hand as if it was glued to his palm? He probably played a lot of Halo 3 while creating an impressive crater in the couch your house's old tenants left behind. Why? Because the combination of the blissful, bubbly feeling you get from taking a fat dab goes perfectly with candy-colored Spartans flipping, dipping, and exploding on screen. That same roommate, however, probably swore off Left 4 Dead after he got a whitey during his hunt for the witch.
With that in mind, it's important that we lay out which games are the best to play while you're stoned, and which are the worst. Because you don't want to have a bad trip, do you?