SoniComi: Communication with Sonico might seem like all fun and games, but once you've finished reading through tons of text, choosing Sonico's outfit, setting the scene and shooting photographs while keeping her spirits up, there's barely enough time to be a lewd jerk.
But you can make time, if that's your thing.
Created in 2006 as the mascot for Japanese developer Nitroplus, Super Sonico has since taken on a life of her own, and in that life she wants to be a sexy gravure model. SoniComi: Communication with Sonico, released on Steam earlier this month, casts the player as the virtual idol's personal photographer, helping guide her path to relative stardom.
It's really a game in three parts. There's the meat of the game, which is standard visual novel fare. You meet Sonico at a concert as an amateur photographer. Years go by without meeting her again, but her memory lingers. Then one day you head into work at the photography studio, and there she is. It must be fate! Or game design. Whichever.
G/O Media may get a commission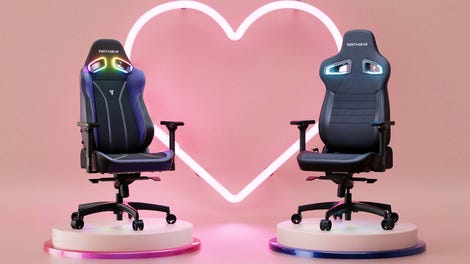 Up to $150 off
Vertagear Gaming Chairs
The second portion of the game is the Communication bit. At various points in the story you'll be given a chance to interact with Sonico directly. She'll speak to you, either using her original Japanese voice or her brand-new English voice, performed with energetic squeakiness by cosplayer Jessica Nigri. You'll be given action and/or dialogue choices, generally a couple of more innocent options and one don't-ever-be-like-this one.
Take your first meeting with Sonico, for example. She gets thrown out of the concert crowd and winds up on the floor, unconscious. Your choices to wake her up involve either touching her face, her stomach or her chest. Two of the choices feature a normal icon. The third is pretty much boobs.
The boob icon choices are pretty much always bad. Sonico asks what her assets are, and should you go there, everything get awkward.
The best part of SoniComi is the photo sessions themselves, and not just because I am a big fan of the Style Savvy series and love playing dress-up.
Once the outfit is chose and the scene set, the player and Sonico get to work. Sonico poses, while the player circles her first-person style. Rings appear around her, and the goal is to take a picture when the circles reach just the right point. Keep shooting without missing and players build up a combo score. While shooting film you can pause and talk with Sonico, encouraging her or asking her to change poses. It's a give and take sort of thing.
You can see how the whole thing comes together in the video below.
SoniComi can be sweet and light or lewd and rude, depending on how you want to play things. The fan service never goes beyond mildly not safe for work, which is either good or bad, once again depending on you. It leans a bit heavily on Sonico's chest, but that's pretty been the character's lot since she was created a decade ago.