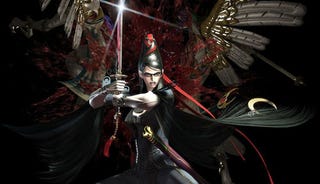 PlatinumGames, the team behind classy brawler Bayonetta, have announced that an art book for the game is to be released sometime this quarter.
With the working title of "Bayonetta Design Collection", it is - according to character designer Mari Shimazaki - "a really thick book", including almost all of the production and promotional art used for the game.
In addition to over 500 pieces of art, it'll also contain commentary from Platinum, making it sound like a hefty, if worthwhile, purchase for fans of the game and/or the developer. Especially if it's anything like the Okami book, which was amazing.
Announcing (A Bit Early) a collection of Bayonetta Design Artifacts [PlatinumGames]