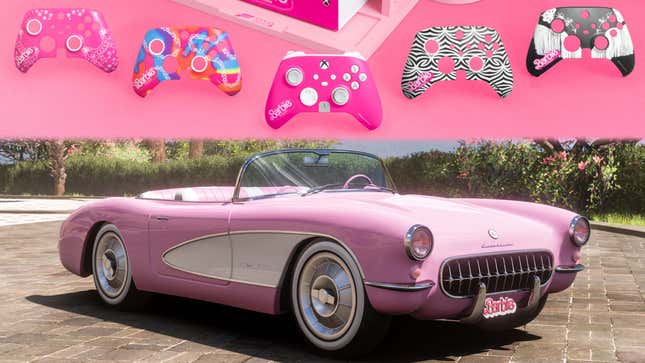 Calling all Barbie girls living in their Barbie worlds. I've got new plastic; it's fantastic. It can also control your Xbox and help you look cool while gaming. Plus, Microsoft announced a new, specially made Barbie-themed Xbox that sadly—along with the controllers—can't be bought, but can be won as part of an upcoming giveaway. And Forza Horizon 5 fans will be able to drive around in Barbie's iconic pink convertible, too.
Thank You, PS Plus, For Making My Backlog Even Bigger
The film Barbie is coming to theaters on July 21. Based on the trailers, it looks amazing, and I'll be in theaters on day one to watch the upcoming film starring Margot Robbie and Ryan Gosling as Barbie and Ken. The new film, directed by Greta Gerwig (Little Women), is inspired by the super famous and successful Barbie doll line from Mattel. And to help promote this upcoming movie, the toy company has partnered with Microsoft on some cool-looking (and very pink) Xbox hardware and other crossover goodies.

The new Barbie-themed Xbox console and controllers aren't for sale
On Monday, Xbox showed off a new Barbie-themed Xbox Series S console that is hot pink and features the Barbie movie logo slapped on the front. Honestly, Microsoft should just release versions of Xbox Series X and S in that color, without the logo. But sadly, this one-of-a-kind Xbox will only be provided to one person via a special giveaway.

Xbox also revealed a rad-looking controller with four additional faceplates based on Barbie and Ken's outfits from the film. I'm extremely annoyed that these designs are only faceplates and will only be available via the previously mentioned giveaway. Nope, these awesome designs won't actually be sold anywhere. Based on the amount of online hype and excitement surrounding these new controller designs, I'm likely not alone in my disappointment that these won't be easily purchasable closer to the Barbie movie's launch.

If a Microsoft executive is reading this right now, here's an idea: Sell some of these designs as official controllers in time for the movie's eventual physical release.

Is that a new Xbox Series X/S controller design?
Some eagle-eyed Xbox and Barbie fans spotted a new mic mute button on the front of the Xbox controller seen in the promo image for the pink hardware.

However, I don't think this is a tease of a new controller design. Instead, this is likely just a sign that this special controller isn't being produced by Xbox, but rather a third-party company. This makes sense, as there won't be many of these controllers made, so Microsoft likely teamed up with a hardware company to produce a small batch of these to be giveaway prizes.

In fact, the controller in the promo art looks a lot like a Scuf-produced Xbox controller, complete with that same mute button. And that Scuf Xbox controller also supports custom and easily swappable faceplates, too.

Kotaku has reached out to Xbox about the controller and new Barbie console.

Forza Horizon 5 gets some Barbie content, too
While it's annoying that I can't buy these new controller designs, at least another part of this big promotional crossover event is obtainable: The new Barbie-themed vehicles added to Forza Horizon 5.
All Forza Horizon 5 players will be gifted Barbie's pink 1956 Corvette as well as Ken's less-iconic 2022 GMC Hummer Pickup. I don't want to be mean to Ken, but dude, get a cooler car. I know which one of these two I'll be driving around in the next time I load up Forza Horizon 5. Hint, it's not the boring Hummer.

Xbox says players just need to play Forza to gain access to these free cars, which can be downloaded from the in-game message center. After that, they'll be in your garage waiting for you.

.