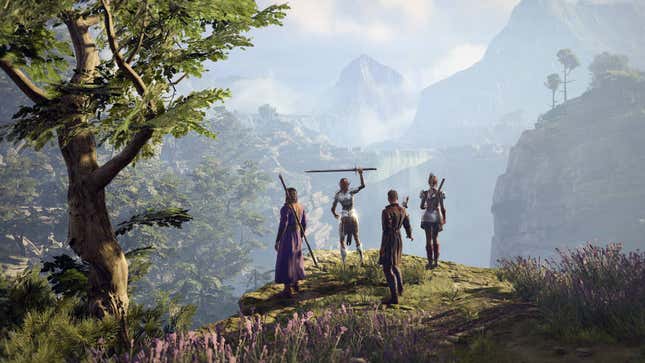 In a recent interview, Larian Studios has confirmed that cross-platform co-op is currently on the roadmap for Baldur's Gate 3. Though a date for the feature's launch wasn't confirmed, the studio said that it has a sense of when it's likely to arrive, and that it had been an early goal for the game's development.
The Week In Games: What's Releasing Beyond Baldur's Gate 3
Like the tabletop roleplaying game it's based on, Baldur's Gate 3 is a great experience with friends. The game ships with network and two-player split-screen co-op on PC and PS5, but while you can port saves across PC and PS5, multiplayer still requires everyone to be on the same platform to play together. An Xbox version is also on the horizon, to make things even more complicated. Today brings good news for those who wish to remain on their own platform, but don't want to split their parties, as crossplay co-op will allow folks to adventure together in BG3 without concern for which machine they're playing on.
Speaking with Eurogamer, Larian director of publishing, Michael Douse, said that crossplay co-op wasn't fit for launch, but that it's very much on the way.
It was always in the planning, but we knew it wouldn't be for launch. It's in the roadmap, and though we have an idea of when we'd like to get it ready for, we don't want to put a date on it until we're sure.
This is some great news for fans of co-op RPGs, especially after the somewhat disappointing news that upon the Xbox version's arrival, the Xbox Series S won't feature split-screen co-op due to hardware limitations. Still, Larian Studios is aiming to ship Baldur's Gate 3 on Xbox before the end of 2023. There has been some concern over the Xbox Series S' performance capabilities in general.
Though more affordable and compact, with access to the same library as the Xbox Series X, the Xbox Series S's weaker hardware will only continue to show its limitations as this console generation sees more ambitious games arrive. In the meantime, every other console and PC should soon be able to play nicely with one another.