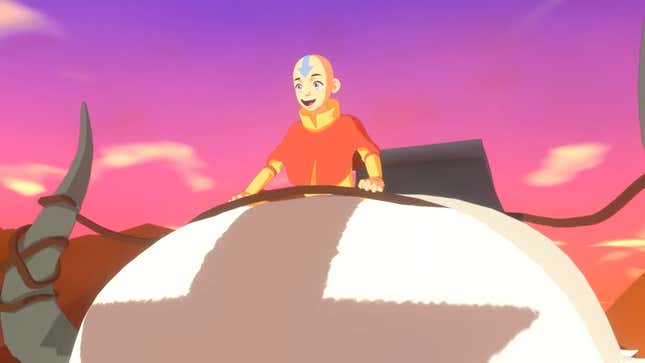 On Thursday, fans of the hit Nickelodeon cartoon, Avatar: The Last Airbender received an adrenaline shot in the arm by way of an announcement trailer for a new action-adventure game set in the universe that's due out later this year. Unfortunately, its gameplay looks a bit bland, and the trailer doesn't reveal enough to feel exciting.
Top Five Anime Couples Who Never Got Together
Avatar: Quest For Balance will let you play as nine different characters in the series (likely including the GAang: Aang, Katara, Sokka, Toph, and Zuko) as you go through the events of the show in either a single-player, two-player local, or online co-op mode. You can check out the trailer below.
Avatar follows the story of a boy named Aang, a mystical child with the ability to control the world's four elements: water, earth, fire, and air. After waking up from a 100-year sleep, Aang must restore balance to the war-torn world by defeating the tyrannical Fire Nation leader, Ozai. The series originally aired on Nickelodeon back in 2005 for three seasons before ending in 2008. Avatar got a sequel series called The Legend of Korra and received a couple of comic book runs and prequel stories.

Read More: Avatar: The Last Airbender Is Getting Three New Animated Films

The last time we had a full-fledged Avatar game (I'm not counting online MMORPG Avatar: Legends of the Arena because it is one of those oversaturated online arena games, or the 2014 Legend Of Korra game since it was based on the sequel series) was in 2008 with THQ's Avatar: The Last Airbender – Into the Inferno for the Wii, Nintendo DS, and PlayStation 2.
The announcement of Avatar: Quest for Balance comes as the beloved franchise is experiencing a bit of a pop culture revival thanks to the return of series creators Bryan Konietzko and Michael DiMartin for three new animated films, as well as an upcoming Netflix live-action series.

As a die-hard A:tLA fan, I can't help but feel like Avatar: Quest For Balance looks a little rough and bland to play. The little bit of bending we see in the gameplay trailer (used primarily to solve environmental puzzles) looks as stiff and lifeless as M. Night Shyamalan's shoddy attempt at a live-action Avatar movie. If an Avatar game can't make its element bending look fun, it's in trouble.

Avatar: Quest For Balance is being jointly developed by Bamtang Games, the folks behind the Nickelodeon Kart Racer series (which received both poor and mixed reviews on Metacritic for being a Mario Kart knockoff), and Game Mill Entertainment, the publisher behind the forgettable G.I. Joe third-person shooter, G.I. Joe: Operation Blackout and the Super Smash Bros. clone, Nickelodeon All-Star Brawl.
The throughline of the team behind Avatar: Quest For Balance appears to be putting out derivative versions of better games that aren't wholly offensive to a series' core fans but aren't groundbreaking, either. So forgive me if I'm a little worried about the new game's legacy failing to live up to the impact of its source material. While it's nice to have more of something you once enjoyed, Avatar receiving a new game isn't enough to make it a game worth playing if it's mundane and uninspired. Time will tell whether my gut feelings about Avatar: Quest For Balance are right or wrong.

Avatar: Quest For Balance is slated to release sometime this fall on PC, Nintendo Switch, PlayStation 4, PlayStation 5, Xbox One, and Xbox Series X/S.