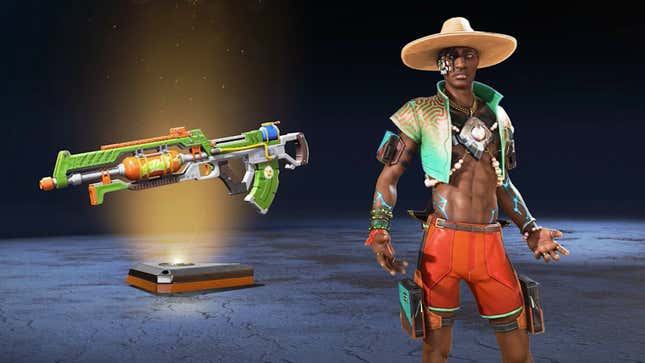 Respawn just announced its new Apex Legends Sun Squad Collection Event which will give players a chance to earn some sweet, swimsuit-themed character skins. But Apex Legends fans want more—specifically, a slutty swimsuit for character Loba.
Why The Hot New Redfall Gameplay Trailer Left Us Feeling Cold
This all started when dataminers reportedly found swimsuit skins for Apex Legends characters, but noticed that the high-femme and rather curvy character Loba was notably absent from the line up. Naturally, social media started buzzing with demands for her to get a swimsuit skin. So many demands, in fact, that the official Apex Legends Twitter account offered them a challenge: "10k likes, we'll add the swimsuit skin."
Naturally, the post reached its goal in 10 minutes. "We clearly should have asked for 100k but a deal's a deal," Apex Legends tweeted in response. But when the official trailer for the Sun Squad Collection Event dropped, some fans were once again outraged. You see, Loba's swimsuit skin is not slutty enough. Her ass is too covered, her upper thighs aren't even showing—good god is that a tankini?!
I think this skin is rather cute, actually, and as someone who has thick thighs, I appreciate the concept of ensuring that my battlefield swim attire does not give me chub rub. But of course, these are gamers, and their reaction to the notion of a woman not being double cheeked up on a Thursday afternoon is akin to suggesting that, maybe, we should make women's soccer players look good in FIFA 23.
In comparison, I find Seer's swimsuit skin to be appropriately sexy, showing off an impressive set of abs that I am going to be putting on my mood board for future gym sessions. And the rest of the Legends have some great skins, too, like Fuse's "drunk frat boy" look and Newcastle's head-to-toe lifeguard gear. I also appreciate some fans poking fun at the outrage by suggesting that maybe Fuse should have gotten a sluttier skin, too.
The Apex Legends Sun Squad Collection Event runs from March 28 to April 11, during which you can enjoy a new LTE called Heatwave, which takes the traditional trios mode and adds periodic heatwaves that will force you to take cover from the sun, as you'll take damage otherwise. You can unlock 24 cosmetics during this event either by buying them with Apex Coins or getting Sun Squad Collection Event Apex Packs. Unlock them all and you'll get Ash's Heirloom weapon, which is pretty sick.