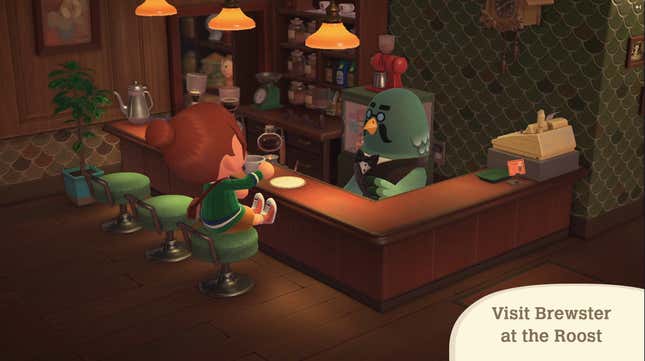 The pigeon has come home to roost. Nintendo showed off how Brewster and his café The Roost will come to Animal Crossing: New Horizons along with a load of other features and changes coming November 5. It will also be the last free update to the game, and the first New Horizons DLC is coming.

What You Should Know About Mario Strikers' Big Free Update
Brewster and The Roost got a shoutout during September's previous, larger Nintendo Direct, but he was barely the tip of the beak.
November's update, which will be the last round of big, free content changes, will add a shopping plaza to Harv's island, gyroids, Kapp'n and his own island, and tons of design updates.
Players can set ordinances similar to how they worked in the last game in the series Animal Crossing: New Leaf. Players will now be able to cook and grow ingredients, change up interiors with accents walls and ceiling decor.
Harv's island previously served as a photoshoot studio, but now, others will set up shop. Harriet and her Shampoodle hair salon will offer more hairstyles. Reese and Cyrus will help customize previously un-customizable ready-made items and furniture. Island visitors Sahara, Redd, Katrina, and Kicks will also be in the plaza. Players will have to contribute to a fund on Harv's island to allow them to set up.
Even Tortimer is here to seemingly help with storage needs! Which is a relief because I was starting to get worried for him.
The Roost, and the green caffeine-loving pigeon who runs it, is a café that first appeared in Animal Crossing's second entry, Wild World. Brewster and his coffee have been in each entry since, except conspicuously New Horizons.
This iteration of the café will allow multiple players to visit at once and will let you summon visits via amiibo.
Last month's Direct showed nothing more than said Roost entrance and signage. Animal Crossing fans were told to wait until today's game-specific Direct to learn more about how Brewster's appearance will play out, along with other new additions.
Still, Brewster is a fan favorite. Avid players have anxiously awaited any hint of his return to the franchise, so even last month's tease got a big reaction from longtime villagers. Upon his "appearance," the Animal Crossing subreddit immediately flooded with posts about the bird and excitement over today's Direct and the upcoming patch. A Brewster megathread was pinned up top, and later, one for the Direct itself.
Today's news also comes after Nintendo said over the summer that it would add more content to New Horizons. That came as welcome news, as players have grown impatient wondering if some of the series staples would ever be added to the Switch game. Many also expected Nintendo's continued updates to offer more than just holiday and seasonal events, which have been the focus of most of the patches so far.
While it's the last content patch we'll see, Nintendo certainly made sure it counted.