And by "you" I mean old-school Transformers fans, for while the game is a bit of a free-to-play time-sink, it's got the touch and power of a project put together by 1980s-era fans.
Rovio's birds and pigs are disguised as robots in disguise, but this isn't a game about Autobirds Vs. Deceptihogs, nor is it your average Angry Birds game. There is no slingshot here — this is an action joint. The 'bots run through stages, blasting away at precariously-perched pig enemies as they go, transforming into vehicles to avoid falling obstacles. It's rather clever, really. Check out the archive of my stream to see for yourself.
Is it repetitive? Oh hell yes it's repetitive. Instead of a linear progression as with normal Angry Birds games, here we're just meandering about fixed points on a map, waiting for timers to expire while we collect money to uncover new areas and upgrade our bots and pigs to unlock new characters. At time's it's downright dreadful.
G/O Media may get a commission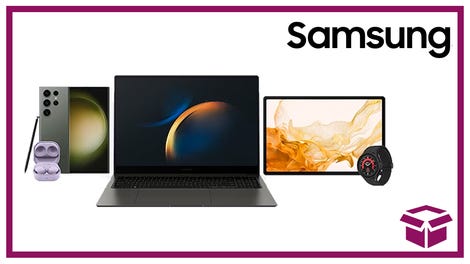 24 hour deals
Discover Samsung - Daily Deal
But it's free, it's filled with familiar-ish faces from three decades of Transformers history — one of the first few robots to join your roster is Bludgeon. For many, that's a pretty deep cut.
And then there's the music. The music is THE reason for fans to download this game. The team at Rovio responsible for the game, huge fans of the original series, somehow got Vince DiCola, composer of the iconic electronic instrumental music from 1986's Transformers: The Movie, to do most of the music for the game. And by somehow, I'm guessing they probably just asked him. What's he's done here is beautiful, in a very Vince DiCola way. It makes me want to feather my hair. It makes me want to have hair again.
Yes, Angry Birds Transformers is a free mobile game. There are timers to wait out, in-game currency to buy — and toys. There should be toys on store shelves now. I need to run to Target. It's got the common free game annoyances, but they're so steeped in Transformers history it's really kind of charming.
Angry Birds Transformers is out today worldwide on iOS. The Android version is due October 30, with an Amazon installment soon after.